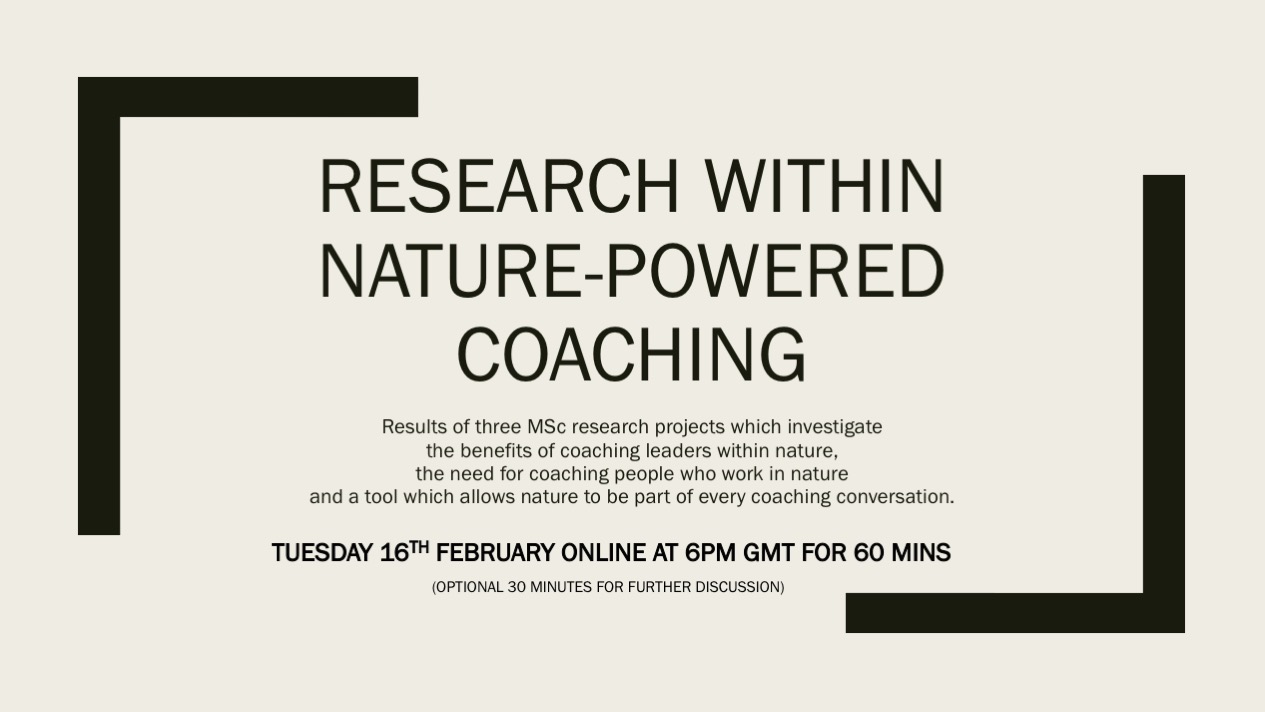 Coaching
277
277 people viewed this event.
You're warmly invited to join three Coaching Psychology graduates who recently completed research in:
Coaching in Nature: does it make a difference if clients are coached in nature? Discover the results of Loes' exciting research with leaders.
Adventure Guides: can coaching benefit the environmental behaviour and motivation of people who constantly work within nature and what are the implications for those of us who don't? Elsa's keen interest in eco-psychology makes this research vital for all coaches.
LIFE model coaching: can the ecosystem be ethically used within a coaching conversation if the client has not raised the issue? Karen modified a positive psychology tool and shares the results of her research using it.
Each presenter will present the results of their research for 10 minutes and 5 minutes will be allowed for questions with a further 30 minutes for discussion, if required, at the end of all presentations.
Additional Details
Event Timezone Is - Andorra, Germany and United Kingdom
Presenter / Host Bio
LOES VAN MIERLO Loes is an accomplished leadership coach who has worked with corporate clients such as Google and WhatsApp. https://www.loesvanmierlo.com/
Presenter / Host #2
ELSA VALDIVIELSO-MARTINEZ Elsa studied law and journalism before completing her MSc in Positive Psychology and Coaching Psychology in January 2021. https://www.instagram.com/elsavm_/
Presenter / Host #3
KAREN FINN Karen's previous studies in Social Anthropology informed her decision to use the portraiture research method for her MSc dissertation. https://www.instagram.com/thefixltd/
Email - mskffinn@gmail.com