Events
As the Climate Coaching Alliance grows we are collaborating to support each other, building a global community of coaches enabled to process, act and support our clients to do the same in the face of emerging unprecedented events. As a matter of principle, our events are free. We are able to do this due to the goodwill and support of leading coach bodies and practitioners all over the world.
If you have a particular request for support or offer you want to make to this growing community, please contact us via email infoatclimatecoachingalliance.org.
Please browse through a selection of our events. We hope to see you soon!
What are coaches being called to do now?
You are invited to join this introductory session on 20 July 2020. We will explore what coaches are being called to contribute, individually and through their coaching is this rapidly changing world that includes the pandemic, climate change and ecological crisis.
In June we were thrilled to play our small part in five major coaching bodies, Association for Professional Executive Coaching and Supervision (APECS), Association of Coaching (AC), European Mentoring and Coaching Council (EMCC), Asia Pacific Alliance of Coaches (APAC) and International Coach Federation (ICF). signing a joint statement about climate change. This announcement was a joint statement on coaching and the current climate and biodiversity crisis, and will be followed by some webinars jointly held by the bodies to discuss the statement. The Boards of all five bodies have approved this statement.
So, what are coaches being called to do now? How might we engage with our clients in an ethical manner?
Please join us as we consider these questions – and engage in conversation together. Register to obtain a Zoom meeting link at either
---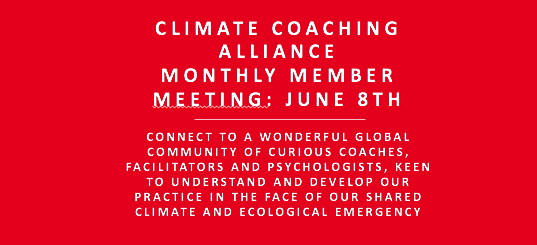 Member meetings: We are hosting two calls on Monday June 8th to cover all time zones:
9am BST (8am UTC, 10pm PDT-1 day, 6pm AEST) and
6pm BST (5pm UTC, 10am PDT , 3am+1day AEST)
To receive a link to the meeting, please email info@climatecoachngalliance.org or complete the sign up form here to join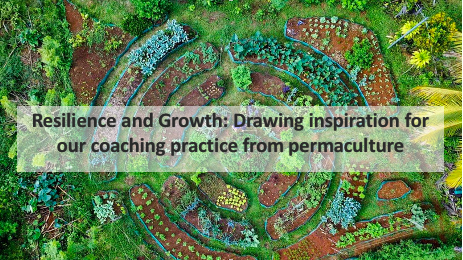 Andra Morosi and Pascale Reinhardt hosted beautifully facilitated event and we will be able to share the video shortly. The profound simplicity of permaculture ethics and principles was insightful and the dialogue inspiring. We are hoping to run this event again later in the year
Description
Andra and Pascale invited us to a walk in the garden, a moment of sharing and reflection around some of the underlying values of permaculture and how they may show up in ourselves, our work, our relationship systems and the world.  The walk took participants through a 6-anchor path and planting seeds for inspiration and co-creation
Working with the interdependencies: bringing awareness to what we have disconnected from 
An event hosted by the Invitechange team as part of International Coaching Week.
Facilitated by Eve Turner, Josie McLean and Alison Whybrow, Co Founders of the Climate Change Alliance
A big thank you to Janet Harvey and all of her team for making this possible.
Description
What does coronavirus have in common with what we are experiencing globally in terms of the loss of biodiversity, loss of fertile soils, decreasing food nutrition, increasing air pollution, increasing acidification and plastics in the ocean have in common?
We have been thrown into a stark awareness of the deep interconnected nature of our existence. Unravel a thread in one part of the globe, and the reverberations are felt within weeks everywhere, rippling out along every aspect of our interdependent lives and ways of living. If we pause and follow these ripples, what might we and our clients discover, what might we become aware of that we haven't being paying attention to?
What is the learning for us in relation to our practice development? How do we work with the interdependencies?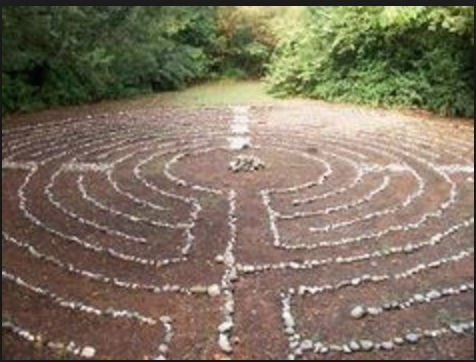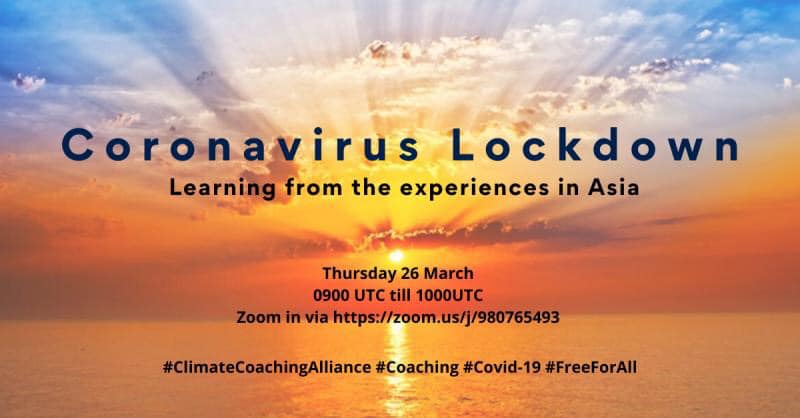 WHAT DOES A CORONAVIRUS LOCKDOWN MEAN FOR YOUR COACHING PRACTICE?
As many coaches, facilitators, and coach supervisors retreat to home offices as individual contributions to flattening the curve, we wondered what could be learned from our colleagues who have been at the frontline of the responses to Covid-19. We contacted five respected coaches, who faced the changes first, to invite them to share the lessons that they have learned. Most of all, they wanted to share their reflections on leaning into our individual and collective sense of being.
We invite you, from around the world, to join us on Zoom for 60 minutes as we explore answers to questions including:
* How did you cope with the coronavirus?
* What changes have you needed to make?
* What were the greatest challenges personally and professionally?
* What have been the take aways/your learning from the virus and its impact? If there is a silver lining (positives) from this, what are they?
It is hosted by Josie McLean and we will hear from 5 coaches sharing their experiences: Vimala Suppiah, Julie Zhang, Deana Peng, Sabrina Park and Travis Green with perspectives from Malaysia, China, Japan, South Korea and Thailand.
As always, there will be time for you to talk with your colleagues to share and develop your own ideas about how you have and might respond. Zoom in on https://zoom.us/j/980765493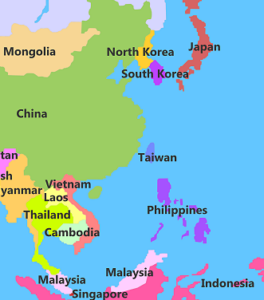 24-hour conversation successfully held on March 5th 2020 on coaching and climate change every hour from New Zealand to Hawaii
Wherever you live in the world, if you have a free hour between midnight and midnight UTC on Thursday 5th March then join in an exciting, challenging, engaging, collaborative conversation with other global coaches.  The topic: Coaching and the Climate and Ecological Emergency.  The exact contents will depend on your hosts and you but what you can expect is a wonderful connection with fellow coaches across the world, and an opportunity to discuss strategies and practices that will allow us and our clients to step into the necessary leadership role in the face of the crisis.  It'll also be a chance to resource ourselves and create spaces to process how we are feeling.  This 24 hour marathon, run by the Climate Coaching Alliance (www.climatecoachingalliance.org) as part of the Climate Coaching Action Day spearheaded by Coaching at Work magazine, allows you to dial in at a time convenient to you.
We have 48 hosts – representing every time zone in the world – and the calls will start on the hour every hour, with the first in New Zealand at 1300 local time.  If you would like a local host, then you can dial in at 1300 in your area; this is the ZOOM link: https://zoom.us/j/495364895 .  But please do join any time that suits you.  If the actual time is 6pm Thursday in Australia then you would be joining a call hosted in Kuala Lumpur and Shanghai, how exciting!!  If you are an early bird in New York then join your 0800 call (1300 UK) and you'll be hosted by the UK (Peter Hawkins and Zoe Cohen). Or if you are more of an owl in Africa or Europe or an early bird in the Far East on the following day, then join the evening calls hosted by coaches across America (including Janet Harvey and David Drake).
Please get the date in the diary and join in the excitement!  The Zoom link again: https://zoom.us/j/495364895 .  We look forward to the conversations too.  Eve Turner, Alison Whybrow and Josie McLean, co-founders of the Climate Coaching Alliance.