Ecological and Climate-Conscious Coaching
A Companion Guide to Evolving Coaching Practice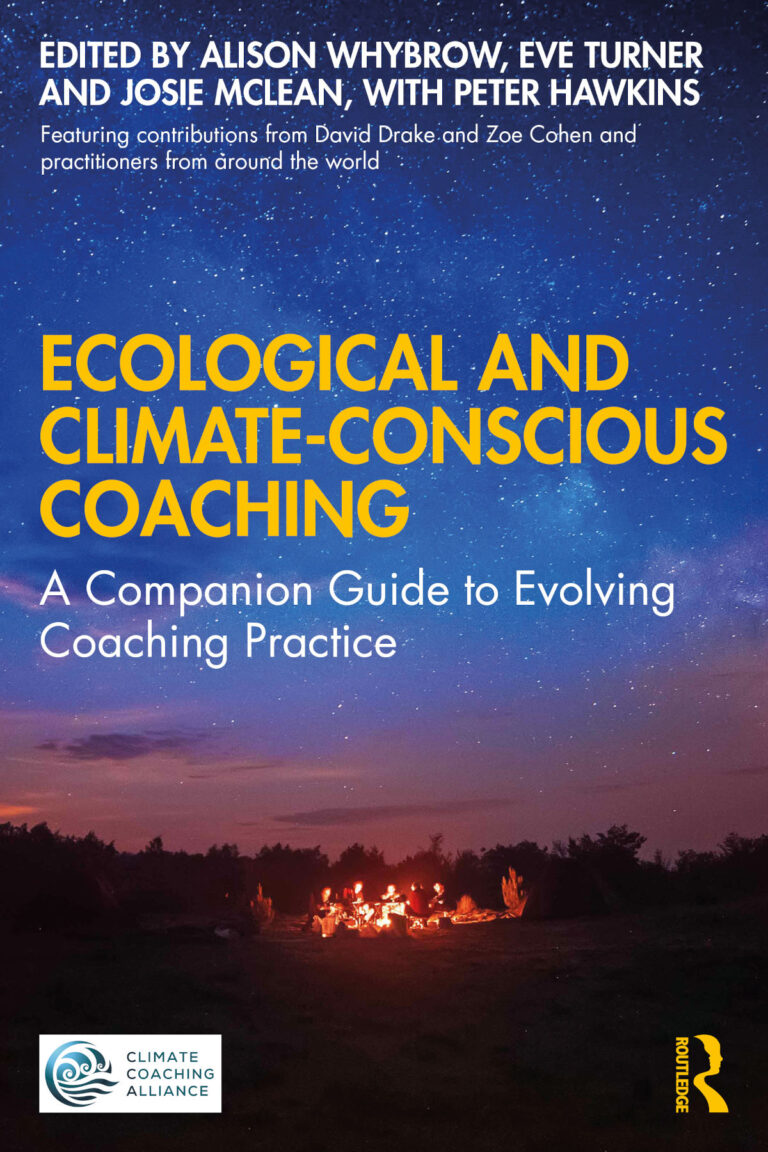 Get Your Discount at Routledge
when you use code: ADC23. 
This book takes you on a seven-day journey with your guides - 70 coaches and thought-leaders from around the world. Through storytelling, poetry and other creative approaches, readers can follow this program alone or with others and take a practical and empowering look at the impact of the climate emergency on their practice and how they might respond.
Discover methods for adapting your practice while making a livelihood, reframing your work with urgency and action through exploration of the five-stage 'Eco-phase' cycle, moving from 'Eco Curious', 'Eco-Informed', 'Eco-Aware', to 'Eco-Engaged' and 'Eco Active'. Designed to encourage discussion, raise awareness and increase confidence about stepping into a leadership role, the book explores the difference that coaching can make in the world as a result of greater eco-awareness and systemic understanding.
Featuring powerful stories from around the world, and with a treasure trove of resources and practical tools and methods, supported by reflective and practical exercises, this book will be an inspiring read not only for those involved in coaching, supervision, mentoring and leadership development, but also for leaders.
Watch the recordings of the Book Launch events held on November 29th, 2022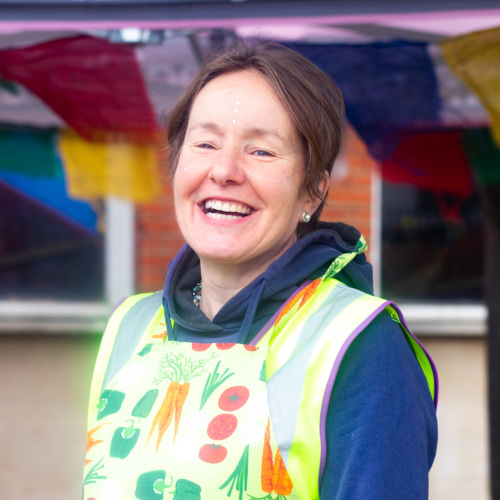 Alison Whybrow
Alison was a globally renowned Coaching Psychologist, Supervisor, Facilitator, and CCA co-founder. Campaigner, community builder and transformational leader, she inspired people to reach their higher purpose in service of a living earth.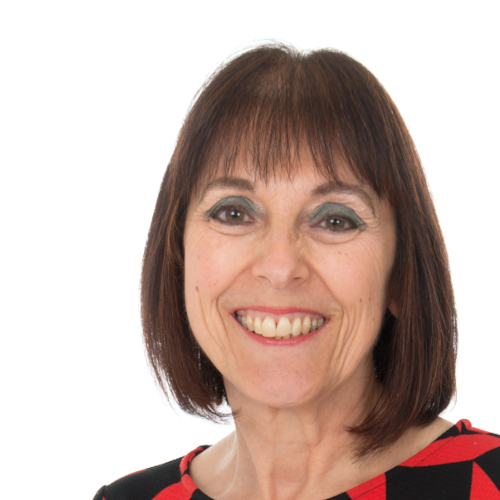 Eve Turner
Eve is a renowned coach and supervisor globally. Immediate past Chair of professional body APECS, she's very active volunteering, including co-founding the CCA and founding the Global Supervisors' Network.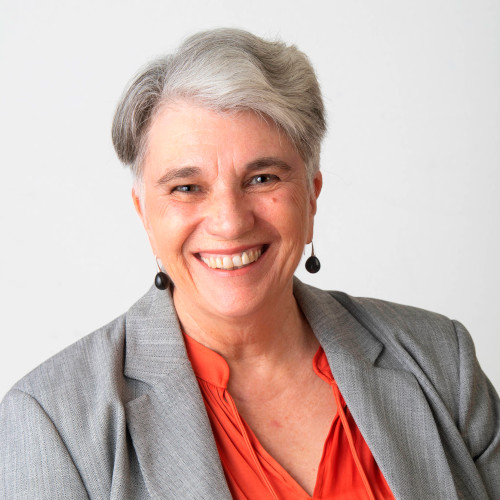 Josie McLean
Josie was an early pioneer of professional coaching in Australia and ICFA President. CCA co-founder, she works with organizations evolving adaptive cultures to shape sustainable organisations, communities, and planet.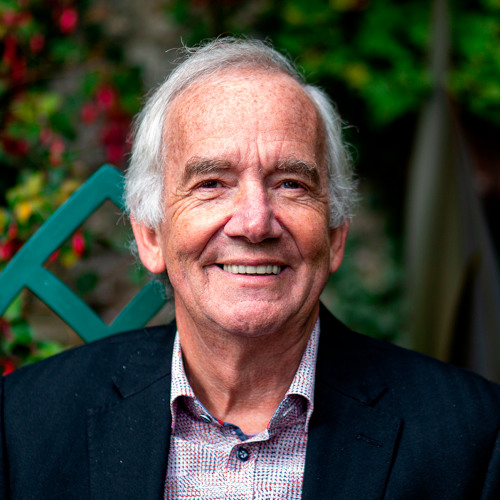 Professor Peter Hawkins
Peter is a global thought leader in Systemic Coaching, Executive Teams and Board Development. He's a leading international consultant, coach, supervisor, researcher and best-selling author including team coaching, leadership and culture change.
What people are saying...
Magdalena Nowicka Mook
CEO, International Coaching Federation
'Raising awareness and knowledge around the urgency of the climate emergency and creating safe and challenging space to reflect and act is what we can and need to do.

This challenging, and, by design, "uncomfortable" book offers just that – frameworks, tools, techniques that would allow anybody to understand the eco-phase cycle and find their way in contributing to the lasting solution.'
Professor David A Lane
Professional Development Foundation
There are many important books on the climate crisis. Coaches have begun to recognise they have a role but also to begin for many the journey of moving from concern to action. What we have been missing is a guide to that journey and a framework for conceptualising the challenge we face.

Ecological and Climate Conscious Coaching provides that guide and that framework. It takes us through the process of understanding how we might recognise and respond to the crisis confronting us all. Providing both concepts and tools for reflection and action it invites to rethink how we approach our role as coaches and our contribution as both professionals and citizens.

I have worried about, puzzled over and pursued concerns for the health of the environment for more than fifty years. At times I have been despairing of our lack of action. This book makes me more hopeful that our profession can make a difference if we accept the authors invitation. Some books are important. This one is essential. I implore all coaches to both read and engage with the journey it offers. The world and our future demands no less.
Margaret Heffernan
CEO and Author, Wilful Blindness and Uncharted
In our work, some of the richest material are the things not being talked about. And chief among those is climate change. How can coaches and mentors be concerned for the wellbeing of their clients if they avoid discussing the very environment in which the work takes place?

This fascinating dialogue explores ways to open up a vital conversation that underpins the flourishing of us all. By turns philosophical, practical, spiritual and realistic, this fascinating and necessary read offers productive ways out of denial and into action.
Frederic Laloux
Author of Reinventing Organizations
In the face of the climate emergency and ecological breakdown, every profession is called to reinvent itself. It's wonderful to see the coaching profession taking on the challenge is a profound and wise manner.
Hetty Einzig
Leadership Coach, Consultant, Author; the Association for Coaching Director of Publications Strategy & Executive Editor of Coaching Perspectives
This book is a work of co-creative love. It is enriched by the comradeship between the authors, animated by their long and committed coaching experience and ecosystemic knowledge, and fuelled by their enduring love for the Earth and all who share this miraculous planet. The reader is invited to share a journey with them and the many others who people the pages through seven days of stories, information, poetry, provocations and helpful practices.

While the authors do not flinch from laying out the facts this is anything but a book of doom. I found it a deeply absorbing and, dare I say it, enjoyable, gripping read as I was guided through lively conversations rich with images and personal adventure. This book is a vital offering in these times of devastation. It will support us to take our next steps and be our good companion on the long and perilous journey.
Ram S Ramanathan
Coacharya
Through following the 7 days of this book's journey you will discover how to commit to spiritual action to create an empowering emerging future. May this book inspire readers so that if our collective grandchildren ask us, 'what were you doing when the earth was being plundered?' you will have an answer.
Anjali Nair
Founder-The HR Studio; Member, Board of Governors - International Association of Coaching; OD Consultant; Leadership Coach
A brilliant and thought-provoking book that captures the spirit of coaching. I enjoyed the narrative that weaves together multiple perspectives to raise awareness and deepen reflection.

This book will definitely help leaders, coaches, OD practitioners, and individuals make a broader systemic impact through a climate-conscious mindset.
Dr Riza Kadilar
EMCC Global President
A very timely and forward-looking collective masterpiece reminding us to redefine the role of our profession when it comes to focus on what needs to be sustained. The book inspires us all about how the world could be a better place when, as humans, we start living in harmony with ourselves and with the universe surrounding us. So, a great companion in our journey from ego-centric to an eco-centric way of life…
Janet M. Harvey
CEO inviteCHANGE
Stop feeling isolated in grief about our climate challenge by joining global co-conveners who offer a poignant and practical companion guide for you to breakthrough inertia. Learn from direct experience shared by practitioners and become part of a community with a mutual commitment to feel deeply through the stages of curiosity, awareness, information, engagement and ultimately the ecological literacy essential to sustain useful eco-action.

In the words of Jane Goodall, beyond passion and fantasy, real hope demands action and engagement. This guide is a timeless resource for every person to generate real hope for each other.
Dr. Marshall Goldsmith
Thinkers50 #1 Executive Coach and New York Times bestselling author of Triggers, Mojo, and What Got You Here Won't Get You There
This book is timely and essential. Drawing the reader in with captivating stories from contributors across the world, the authors approach climate and ecological crisis in a fresh and thoughtful way. Coaching is on a path to reinvention, and this book will quickly become a staple of the new curriculum. A must read!
Liz Hall
leadership coach and editor of Coaching at Work magazine
This is a beautiful, inspiring and empowering treasure of a book, packed not only with resources and tips, but love, joy and hope.
Stephen Palmer PhD
Faculty of Climate Change and Coaching Psychology, ISCP International Centre for Coaching Psychology Research
This is a book of insightful journeys over seven days, reflecting on the ecological and climate crisis and the important role coaching can play. Through the creative development of eco-engaged coaching, supervision and training, the authors provide a strategic vision and direction for the future.

This exciting book will inform both trainee and experienced coaching practitioners with what they need to know about eco-engaged practice.
Pam McLean PhD
Faculty of Climate Change and Coaching Psychology, ISCP International Centre for Coaching Psychology Research
Many of us wonder what work we can do as coaches and human beings, to address the challenges of climate change. These authors don't wonder, they do something that is quite remarkable and consequential!

This brilliant book offers us practical ways to become eco-informed by articulating a framework for regenerative coaching which begins with our self-work, as the key to engaging differently with our clients be they individuals, teams, or broader organizations.

Chapter by chapter the authors create an experiential workshop for use, offering provocative questions for our thoughtful consideration while enriching each chapter by sharing their own, to evoke our deepest reflections.
David Clutterbuck
Special Ambassador, EMCC
In an ever-busier world, leaders have to fight harder and harder to escape from short-term thinking. Paradoxically, attending to the farther horizon of climate change and the wider eco-system enhances decision making in the now. This book provides an essential guide for future-focused leadership.
Colleen Qvist
CQ Associates (Pty) Ltd, COMENSA Master Coach, COMENSA Master Mentor, National Vice President Coaches and Mentors of South Africa (COMENSA), COMENSA representative In the Group of Signatories to the Joint Global Statement on Climate Change
This companion guide to evolving coaching practice respectfully invites the reader on a journey around the eco-cycle with the understanding that this journey in non-linear and does not reach an end. I suspect that it is not only the eco-cycle that we will keep coming back to, but also this guide.

On the journey, we receive guidance on how to introduce the ecology into our coaching work respectfully without being evangelical or unethical. The guide addresses supervision, eco-engaged coach development and training and ways of resourcing ourselves and our work – so we work from and are supported by 'Source'. The book is written in a way as to invite people to work with others as they journey around the eco-cycle. Eve, Josie, Peter and Ali – as I read, I could hear your voices and feel your vulnerability as you spoke from the heart. You are right it is not a "comfortable" book but a vital resource to urgently have us move individually and collectively from ego-centric to eco-centric. I urge all of us to form hubs and to work through this guide and to action what emerges so that we can confidently answer our great grandchildren when they ask us what it is that we did.
Myles Downey
Author of Enabling Genius, Effective Modern Coaching and The Enabling Manager
This is literally an invaluable book. That as a species we need to change our behaviour is indisputable. Coaching is a profoundly effective approach to enabling that change.
Dr. Anne Dolly Kuzhimadathil
Founder & CEO, SALT & Immediate Past President, APAC
There is no doubt in my mind that this book is a labour of love, perseverance, and hard work. While incorporating experiential frameworks and activities, it also includes in-depth questions, scientific information, tools, techniques and reflections, making it a transformational book and agent of change. It impels us to embark on a journey that is both caring for mother earth and food for our souls.
Dr Caroline Horner
i-coach academy
Ecological and Climate Conscious Coaching is a unique work: creative, spiritual, practical and thought-provoking. The authors highlight the idea that the ecological crisis is an epistemological crisis. In so doing, they demonstrate the value of coaching and the role it plays in transforming hearts and minds: by connecting with what matters, and challenging unhelpful thought patterns.

The book is very much a journey of inquiry; one which makes a sincere, enlightened and focused attempt to save our world. It comes at the right time.
Damian Goldvarg
Leadership Development expert and author. Past President, International Coaching Federation
It is said that we don't just inherit the earth from our ancestors but borrow it from our collective children. This book addresses the most important issue facing our and many other beings, the climate and ecological crisis. It does so by drawing us in through the diverse and enticing stories from contributors worldwide, and through the passion, dialogue and compassion in its pages, taking us on a journey with trusted companions. If there is one book you buy that will touch your very being, I would recommend this.
Dr Sunny Stout-Rostron
University of Stellenbosch School of Business
This very timely anthology captures deep and original insights from a collective of global voices to address the future of humanity and our planet. The authors pose a vital question: how can coaching, mentoring, supervising and training make the most beneficial contribution to the great challenges of our time? It is a call for all of us: how can climate and ecology be integrated into our practice? Based on a seven-day 'eco-journey' with four convenors, over 60 contributors ask and answer challenging questions about what it means to be a practising coach today – and in what way coaching needs to transform.

What, in fact, are the wider responsibilities of a coach to society? And do practitioners enable those economic, political, and ecological systems that perpetuate themselves, thus dangerously harming the planet? David Lane points out, coaches work with decision makers in industries that have a big impact on the environment. Sir John Whitmore defined the purpose of coaching as raising awareness so that people would take responsibility and ownership for their choices. He apparently did so with full awareness of our impending climate and ecological crisis. If coaching is good at helping people take a larger view of their reality, then what can coach practitioners and supervisors do to help clients to transform their businesses?

The book identifies a role for coaches to support leaders in transforming the rules of the game itself. But to shift our perspectives as coaches, we need to look at the 'regeneration' of coach development and training and develop the courage to act. This book asks difficult questions that as practitioners we need to begin to address urgently. As Peter Hawkins says, the coaching profession needs to move from being individual and ego centric to being eco centric.
Sally Gillespie PhD
Author of Climate Crisis and Consciousness: Re-imagining our world and ourselves
This book is so much more than a book. In addition to its deeply informed systemic analysis and rich storytelling, Ecological and Climate-conscious Coaching offers a grounded guide for a revolution in consciousness, rich in conversations and camaraderie, packed with diverse perspectives and practices.

This book is not only a must read for all coaching professionals and business and community leaders, it is also a template of transformation for anyone seeking understanding, support and agency in response to the ecological and climate crises. No matter who you are, find yourself a few companions and embark on this inspired interactive journey guided by the wise minds and loving hearts of its authors.