Registrations have closed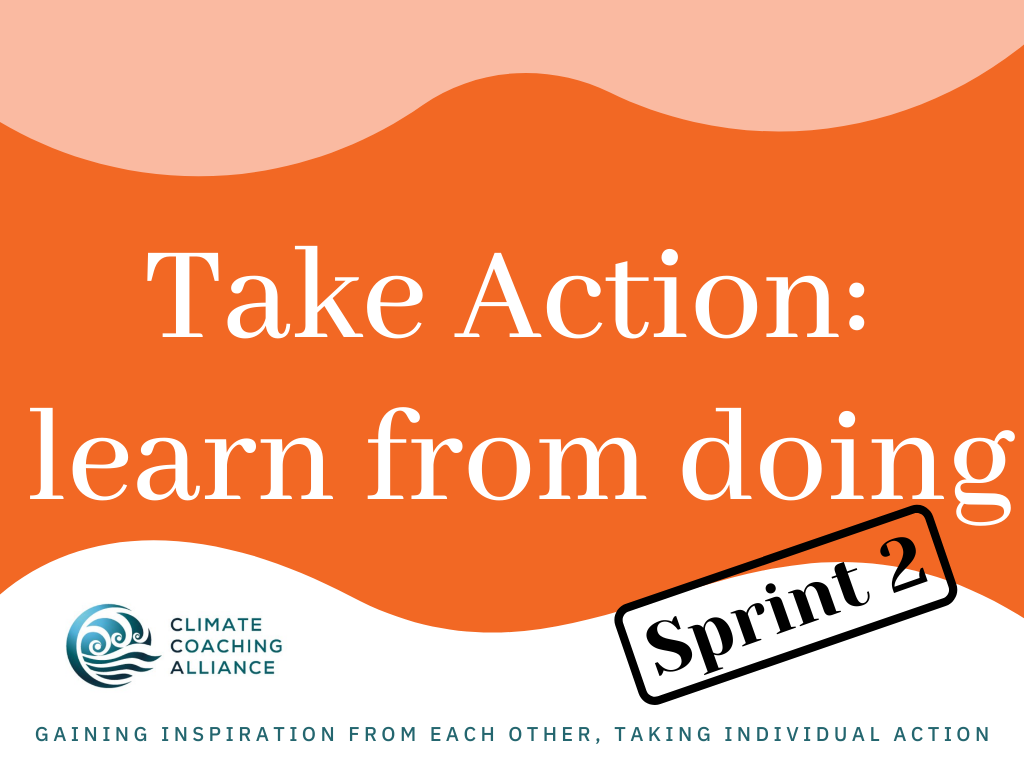 Take action: learn from doing
152
152 people viewed this event.
As our climate and biodiversity emergency becomes more urgent there's a huge desire to stop talking and take action. If that sounds like you, then join us!
Using a 'sprint-like' process [*] over six weeks in May and June, a group of us honed an Action Agenda for coaching, coaches and the CCA. The next step is to build on this work with our next 'Sprint': 'Take Action: Learn from Doing'.
During this six week process we'll discover 'What's mine to do?' (alone or with others). Meeting each week will help us to be inspired, gain knowledge and build an energy that's difficult to do alone.
Between each session we'll experiment with action. Then we'll come together to learn from each other and support our collective efforts.
We'll create a space that we'll design as we go and use for what we need.
What happens depends on you!
Commitment
This time-bound, committed, action-oriented group will hold space together for 6 weeks, approx 75 minutes per week on:
September 15th, 22nd and 29th
October 6th, 13th and 20th
To maintain momentum and create a consistent community of support, we ask you to commit to the six sessions.
[*] We're borrowing the term 'Sprint' to describe our intention: a time-bound, committed, action-oriented way of working together for a specific purpose.
Additional Details
Event Timezone Is - Ireland and UK
Registration Deadline - Sep 8, 2021
Presenter / Host Bio
Paula Downey - Paula works with people and organisations on issues of culture and change using the principles of life and living systems as a touchstone and guide. https://culturework.ie/
Presenter / Host #2
Karen Finn - Karen works as a coach with individuals and groups. Her work is focussed on enabling clients to connect more fully with themselves and the world around them. https://elements.ltd/
Email - mskffinn@gmail.com