Registrations have closed.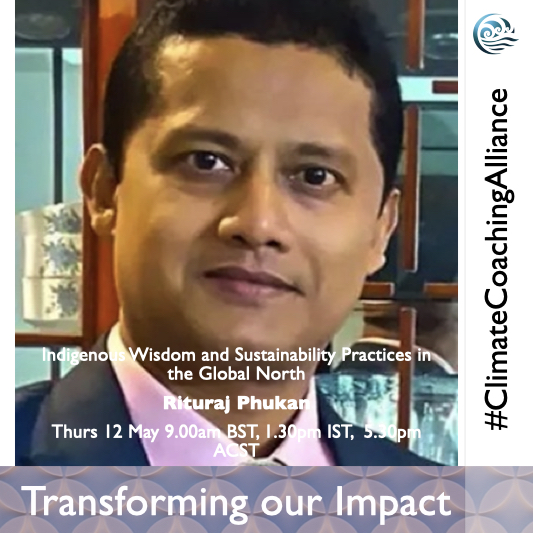 Connecting Indigenous Wisdom with Sustainability Practices in the Global North
196
196 people viewed this event.
It is no secret that the most extreme weather events have the greatest impact in regions far from the factories and cities where the highest carbon emissions are created. While many rural communities lack the resources to mitigate and manage these disasters, those of us in industrialised nations lack an understanding of the full impact of our work and lifestyle choices. Rituraj Phukan lives in Assam which is already experiencing 1.3 degrees of global warming. He is the National Coordinator for Biodiversity for The Climate Reality Project India, Chief Operating Officer of Walk For Water, and Secretary-General of Green Guard Nature Organization and he has first-hand experience of the impacts of climate change in the polar frontiers of the Arctic and Antarctic, in the Himalayas and across India.
In this presentation, Rituraj will explain how relentless weather events are reshaping indigenous communities in Assam and how these communities are responding with foresight, resilience, and action.
Rituraj is passionate about Climate Justice and believes this can be facilitated through organisations and corporations in the industrialised world gaining insight from the experiences, resilience, and ingenuity of these indigenous communities.
Can we as coaches help Rituraj link indigenous wisdom with Western sustainability practices?
Additional Details
Event Timezone Is - Australia
Presenter / Host Bio
Rituraj Phukan is an environmental writer, adventurer & naturalist based out of Assam. He is the Founder of the Indigenous People's Climate Justice Forum and also serves as the Vice-President of the US-based Grassroots Coalition for Environmental and Economic Justice. He is a member of the International Union for Conservation of Nature and sits on the board of civil society groups in the Americas, Europe and Australia. Rituraj was personally trained as a Climate Reality Leader by Nobel Laureate Al Gore and was featured in the former US Vice-President's 2017 book 'An Inconvenient Sequel: Truth to Power'. He authored the chapter "Biodiversity in a warming world" in the Amazon No.1 Bestseller 'Climate Abandoned,' a book launched in the USA on Earth Day 2019. He was an accredited Observer at the UN Climate Conference (COP26) in Glasgow in November 2021," and has recently been selected as a European Climate Pact Ambassador.
Presenter / Host #2
Diana Collett is an experienced coach/consultant who focuses on the defining shifts of our time. Her specialty areas are team- building for a better future, using power inclusively, and screen mastery. She helps organisations and individuals develop their potential through using their time and resources to meet these challenges and create best possible futures. She has a doctorate in Cultural Research focusing on the use of power in inclusive intercultural communication, a master's in counselling and three decades of training and experience using Process Oriented Psychology to shape personal, systemic and social change. She co-facilitates the CCA Political Pod, sharing space with coaches who are concerned about public discourse and promoting innovative practices to shape a regenerative discourse. Diana is an ICF Certified Professional Coach and Coach Mentor, Inclusive Leadership Trainer and Principle of Heads Up Thinking, which offers global training programs for coaches, counsellors and mental health practitioners addressing the full impact of digital dependence
Posted By - Diana Collett
Email - dianacollett@internode.on.net