Registrations have closed.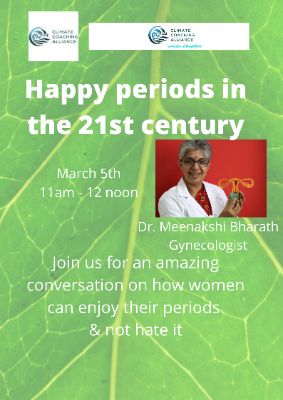 Happy periods in the 21st century
314
314 people viewed this event.
Dr. Meenakshi shares her passion that stems from the mantra for sustainability, as she looks to prevent diseases created by garbage. From segregation to composting to using only reusables and having a waste-free wedding for her children, she is extremely active in converting people to sustainable ways of living. Sharing those tips and how to alter mindsets!
Additional Details
Event Timezone Reference - India
Presenter/Host Bio
Dr. Meenakshi Bharath is a gynecologist of 35 years and she has specialized in fertility work. Her medical practice consisted of making it easy for couples to undergo treatment to have children. Having retired from active medical practice in 2018, she brings her passion for Gynaecology and waste management together in the campaign " green the red" advocating reusable menstrual hygiene products like cloth pads and menstrual cups. Her aim is to make all women enjoy their periods and not hate it.
Posted By - Rashmi Shetty
Email - rashmi.thethirdeye@gmail.com