Registrations have closed.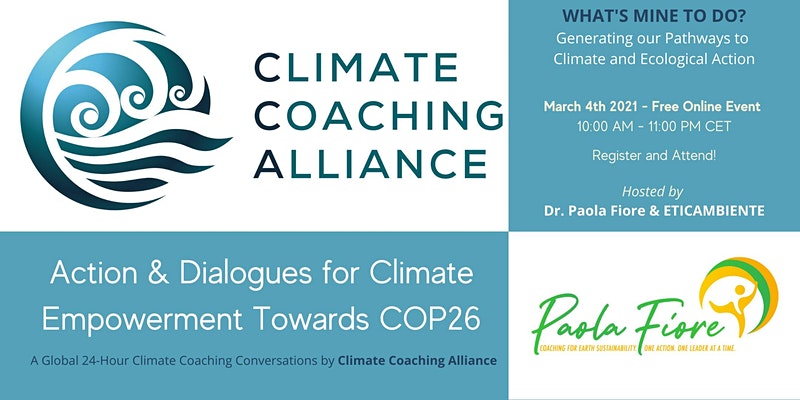 Action & Dialogues for Climate Empowerment Towards COP26
1024
1024 people viewed this event.
Event description: This virtual event presents the vision and activities of the United Nations Framework Convention on Climate Change (UNFCCC) Action for Climate Empowerment (ACE), a platform for governments and other major an minor stakeholders to share good practices and exchange ideas on how to implement:
Climate Change Education;
Training;
Public Awareness;
Public Access to Information;
Public Participation;
International Cooperation.
The ACE Dialogue is an important instrument that helps engage major and minor stakeholders around ambitious climate action towards COP26.
ACE calls on governments directly to develop and implement educational and public awareness programmes, train scientific, technical and managerial personnel, foster access to information, and promote public participation in order to address climate change and its effects. ACE also urges countries to cooperate in this process, by exchanging best practices and strengthening national institutions. This wide scope of activities is guided by specific objectives that are seen as crucial to implement climate adaptation and mitigation actions, and achieve the goals of the UNFCCC.
ACE has been adopted at the Conference of Parties (COP18 – Doha 2012) by the UNFCCC; and, it is also reflected in the Sustainable Development Goals international framework (SDGs, 2015).
Why hosting: As a forward-thinking sustainability pioneer, and working in the sustainable development field since the second half of the '90, we believe that this type of dialogue and discussion need to be known and utilised also by groups of citizens and other stakeholders in order to help solve all together the climate-environmental-health crisis.
What to expect: This is an open and safe space for dialogue and discussion for people and professionals interested in processing and making sense of how climate dialogue and discussion can help individuals and communities raise their environmental awareness around the ecological crisis and engage citizens in ambitious climate action towards the COP26.
As coaches and other helping professionals, we might be willing to explore new areas of development and facilitate conversations around how to support our communities in implementing climate change education, training, public awareness, public access to information, public participation and international cooperation. Let's discuss this all together!
The event is co-organized with the Climate Coaching Alliance (CCA).
By registering to this event, you have provided permission to: 1) have this event recorded in order for it to be shared afterwards among registrants; 2) use your e-mail address for the purposes of receiving tools and insights and connecting with the host; 3) use your e-mail address for connecting with CCA and links to videos.
Additional Details
Event Timezone Reference - Italy
Presenter/Host Bio
HOST & SPEAKER: Dr. Paola Fiore, Consultant, Communicator, Trainer, Mentor & Coach for Sustainability & Climate Change, PCC ICF Paola is the Founder and Director of ETICAMBIENTE® Sustainability Management & Communications Consulting - Innovative Sustainability Coaching & Consulting Solutions for Responsible Growth & Profitability, a Consulting Firm for Senior Company Management, specialised in integrated solutions for business sustainability and social responsibility strategies for innovative firms in the industrial and advanced tertiary sectors. Since 2000, she deals with the design and communication of environmental plans and sustainability to support the integrated management of enterprise and implementation and promotion of environmental management systems and social responsibility. As a Professional Coach and Mentor, she creates and promotes sustainable coaching projects, which facilitate the sustainable development of people and organisations through methodologies, techniques and tools of Neuro Linguistic Coaching and Programming. Through innovative business coaching and mentoring programs, she supports companies in the development of effective skills and solutions towards positive organisational change, and the improvement of corporate relations and communication. Paola is specialised in: Business, Corporate, Executive, Leadership, Well-being, Conversational Intelligence, Sustainability, and Climate Change Coaching. Professional Coaching Qualifications & Affiliations: Accredited Professional Coach by the Erickson College International (EPC) Erickson Certified Professional Coach by the Erickson College International (ECPC) AC Accredited Executive Foundation Coach by the Association for Coaching (AC) Third Italian Accredited Coach by the Association for Coaching (AC) Professional Certified Coach (PCC) by the International Coach Federation (ICF) Mentor Coach Registry of the International Coach Federation (ICF) Member of the International Coach Federation (ICF) First Italian Certified Coach in Conversational Intelligence® (C-IQ® Certified Coach) Coaching with ROI (Return On Investment) Enhanced Skills Coach Expert Level 3 Points of You® Coach & Facilitator Member of the Climate Coaching Alliance (CCA) Member (MAC) of the Association for Coaching (AC) Team Leader & Point of Contact of the Association for Coaching ® (AC), Italy
Posted By - Dr. Paola Fiore
Email - paola.fiore@eticambiente.com