Registrations have closed.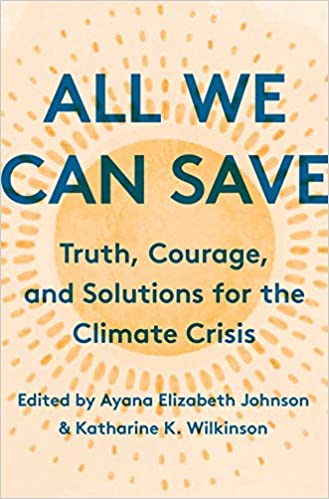 "All We Can Save" Book Circle for Coaches
213
213 people viewed this event.
As coaches we need to be able to navigate the challenging times we are in, and help our clients do the same. One of the challenges we face today is the human caused climate breakdown.
So, if you are wanting to get a better grasp of the crisis, if you are desiring to bring more awareness to the issue into your coaching conversations with clients, or if you are hungry for deeper dialogue and want to build community around the climate crisis with other coaches, we want to invite you to sign up to participate in this All We Can Save circle for coaches and by coaches.
The book All We Can Save- Truth, Courage and Solutions for the Climate Crisis edited by Ayana Elizabeth Johnson and Katherine K. Wilson, is an anthology of provocative and illuminating essays from women at the forefront of the climate movement.
The circle is a little like a book club, but instead of meeting once after having read the entire book, we'll meet weekly for 10 weeks discussing one chapter at a time. The circle will be held via Zoom on Thursdays from 4:30pm to 5:45pm PT/ 7:30pm to 8:45pm ET.
Read more about circles on the All We Can Save website.
To engage deeply with the topic the circle is limited to 15 participants. If interested, please sign-up early to reserve your spot. There is no cost to participating. This event is open to all coaches not just climate coaches so feel free to pass the message around.
Dates:
Oct 6- Week 1: Begin
Oct 13- Week 2: Root
Oct 20- Week 3: Advocate
Oct 27- Week 4: Reframe
Nov 3- Week 5: Restore
Nov 10- Week 6: Resist
Nov 17- Week 7: Feel
Dec 1- Week 8: Nourish
Dec 8- Week 9: Rise
Dec 15- Week 10: Onward
Register on www.designingyourlife.coach
Questions? Please contact Anne-Marie at annemarie@designingyourlife.coach
Additional Details
Event Timezone Is - Pacific Time
Registration Deadline - Feb 7, 2023
Presenter / Host Bio
This circle is hosted by ICF coaches, Cristina Custodio and Anne-Marie Brest.
Cristina Custodio is an experienced social change coach. She is based in Puerto Rico.
Anne-Marie Brest brings her background as a climate engagement coach and is based in California.
We both bring our previous successful experiences of leading All We Can Save circles and our dedication to making this world a better place for future generations through coaching.
Posted By - Anne-Marie Brest
Email - annemarie@designingyourlife.coach