Registrations have closed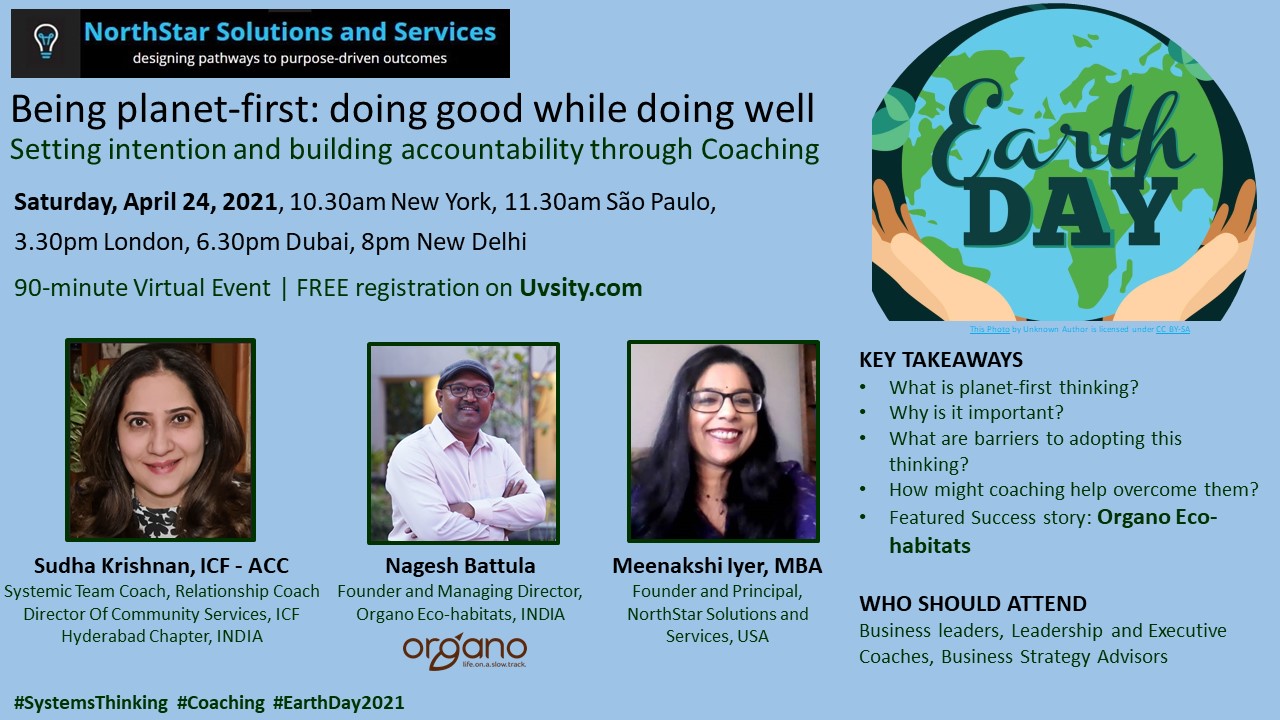 Being planet-first: doing good while doing well – setting intention and building accountability through Coaching
78
78 people viewed this event.
Planet Earth – our home, is like no other, and has no alternatives, nor parallels. It's no secret how much risk our planet is in. The human race does NOT own the ecosystem, but in fact, is a part of it. Our survival depends on the survival of the entire ecosystem. This is where a systemic approach and planet-first thinking and action can help.
In honor of Earth Day, NorthStar Solutions and Services is pleased to host this virtual coffee "Being planet-first: doing good while doing well : Setting intention and building accountability through Coaching"
In this 90-minute conversation, three entrepreneurs, including professional coaches, will explore what planet-first thinking is all about. They will then, share their insights and experience on how coaching can support setting intention and building accountability towards planet-first thinking and action. Lastly, a look at the success story of a sustainable, successful business, Organo Eco-Habitats, built on the foundation of triple bottom line of people, planet and profits.
Guest speaker: Sudha Krishnan, ICF-ACC, Systemic Team Coach, Relationship Coach, and Director Of Community Services, ICF Hyderabad Chapter, INDIA
Featured guests:
– Nagesh Battula, Founder and Managing Director, Organo Eco-habitats, INDIA
– Rakesh Koti, Head of Sustainability, Organo Eco-habitats, INDIA
Hosted by: Meenakshi Iyer, MBA, Personal Agility and Collaborative Leadership Skills Coach, and Founder and Principal, NorthStar Solutions and Services, USA
KEY TAKEAWAYS
– What is planet-first thinking, and why is it important?
– How might we adopt planet-first thinking in business?
– What are barriers to adopting this thinking?
– How might coaching help overcome them?
– Success story: Organo Eco-habitats, INDIA
WHO SHOULD ATTEND
Business leaders, Leadership and Executive Coaches, Business Strategy Advisors
Additional Details
Event Timezone Is - United States
Presenter / Host Bio
Meenakshi Iyer Personal Agility and Collaborative Leadership Skills Coach Founder and Principal, NorthStar Solutions and Services Sudha Krishnan, ICF-ACC Systemic Team Coach, Relationship Coach Director Of Community Services, ICF Hyderabad Chapter, INDIA Nagesh Battula Founder and Managing Director - Organo Eco-habitats Rakesh Koti Head of Sustainability - Organo Eco-habitats
Posted By - Meenakshi Iyer
Email - miyer@northstaratwork.com