Registrations have closed.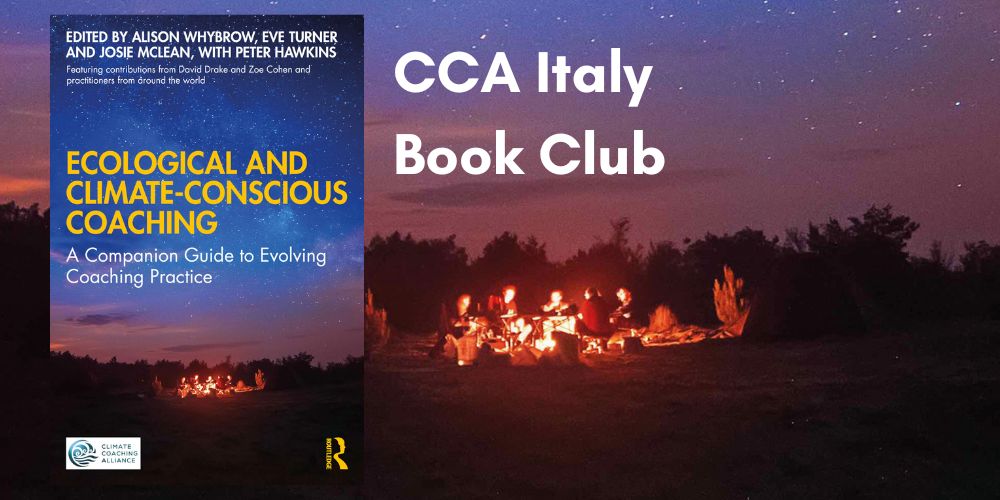 Book Club: Ecological and climate-conscious coaching
254
254 people viewed this event.
In che modo possiamo integrare la consapevolezza climatica nel nostro percorso di crescita come coach?
Come possiamo influenzare la maturazione di un sentimento ecologico nei nostri coachee?
Come possiamo supportare i clienti con cui lavoriamo nel contribuire in modo decisivo ad una nuova economia sostenibile?
A queste ed altre domande il Book Club della Climate Coaching Alliance Italia intende offrire uno spazio di ascolto ed elaborazione.
Incontri mensili, gratuiti ed aperti a tutti, con cui esplorare letture rilevanti all'intersezione fra coaching e crisi climatica, crescita interiore e impatto ecologico, leadership e change-making.
Iniziamo con il libro "Ecological and climate conscious coaching", che costituisce anche il manifesto della Climate Coaching Alliance.
Curato da coach professionisti di rilievo internazionale (Alyson Whybrow, Eve Turner, Josie MacLean, Peter Hawikins, fra gli altri), questo libro ci permetterà di co-creare con tutti i partecipanti un luogo sicuro in cui condividere ispirazioni, idee, esperienze, dubbi e riflessioni, supportandoci reciprocamente nel diventare protagonisti di un nuovo modo di fare coaching, sistemico ed ecologicamente consapevole.
Vi aspettiamo il primo martedì di ogni mese, a partire dal 7 Novembre, online via zoom, dalle 18.30 alle 20.00 (orario italiano).
L'incontro è coordinato da Diana Tedoldi, Giuliano Tarditi e Adriana De Pasquale.
Pre-requisiti: acquistare il libro "Ecological and climate conscious coaching", se possibile avere già letto il libro, o almeno il primo capitolo. Tutti i proventi derivanti dall'acquisto del libro vengono destinati a sostenere Stop Ecocide International. Il libro è in inglese, ma il Book club si tiene in lingua italiana, per agevolare la fruizione del libro anche a chi non ha confidenza con la lingua inglese. Acquistare il libro è quindi un invito che facciamo a prescindere dalla possibilità di leggerlo in lingua originale, e va nella direzione di rendere onore agli autori, all'editore che ne ha supportato la pubblicazione, e alla organizzazione in difesa dei diritti della natura Stop Ecocide International.
Registrazione gratuita al ciclo di eventi mensili dal link seguente:  https://bit.ly/CCAbookclub
Ti aspettiamo!
Additional Details
Event Timezone Reference - Italy
Registration Link - https://bit.ly/CCAbookclub
Event Language - Italiano
Posted By - Diana Tedoldi
Email - hello@naturecoaching.net