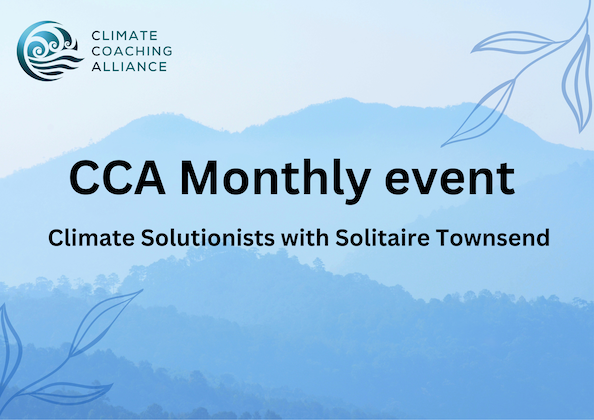 CCA Monthly Event – Climate Solutionists with Solitaire Townsend
63
63 people viewed this event.
Who are the people creating breakthrough business solutions to climate change and social injustice? What are the attributes, motivators and blindspots of these leaders? How can coaches best support existing and aspiring Solutionists? And how can we become Solutionists ourselves?
Join us for an insightful conversation with expert Solitaire Townsend, author of the new book The Solutionists, TED speaker, and co-founder of Futerra, one of the world's leading sustainability agencies.
Additional Details
Event Timezone Reference - UK
Registration Link - https://us02web.zoom.us/meeting/register/tZElcOmprjkiGtMFVlwtC0wI0AfS_pj_u-m1
Presenter/Host Bio
Solitaire Townsend is a renowned sustainability expert who works with some of the world's most influential organisations to activate social justice and environmental restoration. She is Co-founder & Chief Solutionist at Futerra (edie's 2023 Consultancy of the Year) and Trustee of the Solutions Union. In 2023 she was named 'Agency Lead of the Year' at Adweek's Sustainability Awards, and previous accolades include 'Ethical Entrepreneur of the Year' in 2008, chair of the UK Green Energy Scheme, trustee of Ashden, a founder member of the United Nations Sustainable Lifestyles Taskforce and a London Leader for Sustainability. Her popular TED talk, Forbes column and most recent book – The Solutionists: How Businesses Can Fix the Future – are available online.
Posted By - Alison Maitland
Email - alison.maitland@gmail.com