Registrations have closed.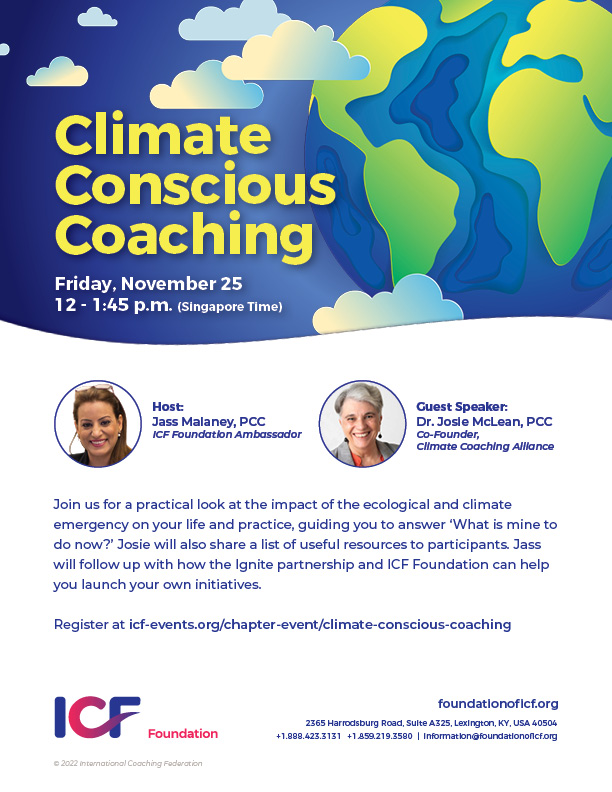 Climate Conscious Coaching
106
106 people viewed this event.
Climate Conscious Coaching
Hosted by Jass Malaney, PCC
Ambassador ICF Foundation
Please join our special guest Dr Josie McLean Co-Founder Climate Coaching Alliance for a practical look at the impact of the ecological and climate emergency on your life and practice, guiding you to answer "What is mine to do now?" Josie will also share a list of useful resources to participants. Following which Jass will share how with the Ignite Partnership and support from the ICF Foundation would help you launch your own initiatives.
Session Description:
While chairing a coaching conference in 2003, Josie was in conversation with Sir John
Whitmore when she had an epiphany – humanity was an unsustainable species on Earth.
This realisation started Josie on a journey of discovering the ways in which organisations and
businesses could lead the way in generating sustainability. She has studied with global experts
in the fields of adaptive leadership and systems thinking to develop her techniques for
cultivating change in organisations.
The threat to humanity from the ecological and climate crisis is becoming ever more prevalent
and coaches have the opportunity and potential to play an important role. In this webinar, Josie
will discuss what exactly climate coaching is and what it isn't and why it is so vital to
organisations and communities as the need for resilience becomes more evident. She invites you
to bring your questions and insights and will provide time to reflect on what it takes to raise
awareness of climate in your coaching.
As a co-founder of the Climate Coaching Alliance, Josie is part of an
international group of coaches with a shared passion for growing sustainable business
practices with their clients.
Additional Details
Event Timezone Is - Singapore
Registration Deadline - Nov 25, 2022
Presenter / Host Bio
Jass Malaney is an Executive Leadership Coach, Mentor Coach, Trainer, Facilitator & a Keynote Speaker. She helps high-potential leaders with customised training, business consulting, and team management and offers new coaches mentorship. She has an experience of 20 years in corporate leadership and has worked with clients like UNICEF, Standard Chartered Bank, American Express Bank, Barclays, Pepsi, Loreal, Johnson & Johnson, etc. She is an advocate for Professional Coaching, Conceptualised, edited and published a Coaching Journal "Coaching Resource Guide".  She has served as the President of the ICF Singapore Chapter (2018), and currently is the Council of Ambassador or the ICF Foundation. 
Presenter / Host #2
Dr Josie McLean, PCC is a catalyst for seeding new ways of seeing and doing things by helping individuals, teams and communities to identify and rethink the underlying unconscious assumptions by which they are being held captive. With a background in finance and corporate strategic planning, Josie is internationally recognised as a pioneer of the Australian coaching industry (recipient of the 2009 ICF Global President's Award), has been a volunteer activist for The Pachamama Alliance (San Francisco), and was a member of a multidisciplinary research team with NCCARF (National Climate Change Adaptation Research Facility) in Australia. She has studied adaptive leadership at Harvard University and is a researcher in organisational change and leadership for sustainability. Her PhD thesis was awarded a Dean's Commendation for Doctoral Excellence. In late 2019, Josie co-founded the Climate Coaching Alliance, a global network of professional coaches intending to influence the profession to recognise climate and ecological crisis in their work. Josie continues to publish in peer-reviewed journals. In the company of Eve Turner and Peter Hawkins, Josie is a co-editor of a new book for Routledge: Ecological and Climate-Conscious Coaching: A Companion Guide to Evolving Coaching Practice due to be published 24 November 2022. All author royalties of this book go to Stop Ecocide International.
Email - jass@acquirecoaching.com