Registrations have closed.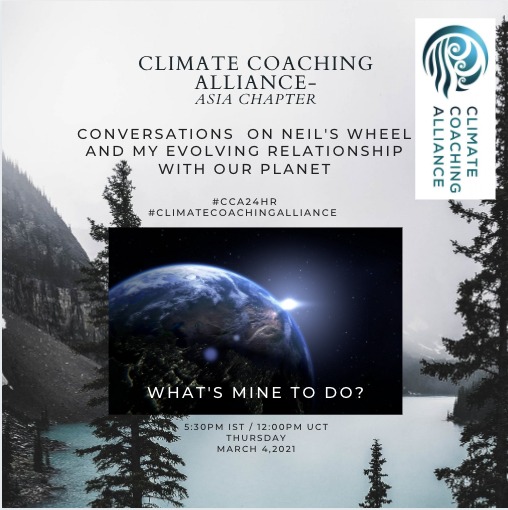 Conversations on Neil's Wheel and my Evolving Relationship with our Planet
894
894 people viewed this event.
This is an engaging conversation which reflects the journey of fellow coaches from Sri Lanka, India, Philippines and Singapore, who are representing the Climate Coaching Alliance Asian Chapter. They are here to share their personal journey on how do they relate themselves with environment and how have their journey with environment has evolved in Individual capacity, Organizational capacity and in Community capacity over a period of time. This journey within through self coaching peer coaching and deep reflections, have enabled them to approach environment differently and also it is creating an ongoing ripple effect in their coaching partnership with clients. Every meaningful environment conscious conversations have influenced their personal beings, lead them to sparks and they are here to share their sparks with a larger community through this global platform. This conversation keeps evolving and this space is created for you to engage, in this evolving conversation. Every conversation has to start some where. This conversation started with Neil's Wheel, a tool that promotes environment conscious life. Climate Change Alliance brought them together for this conversation and their aspiration is to influence it with forward action, to serve the larger purpose of the conversation and community. Join with us to know what evolves on 4 March 2021.
Additional Details
Event Timezone Reference - Sri Lanka, India, Philippines, Singapore
Presenter/Host Bio
Anushly Sithampram Coach Anushly, started her soul searching journey in 2002. She is a community catalyst, founder of ImproShare Global, an organization that advocates on wellness, wellbeing, deep routed human connection oriented culture and environment friendly life. Her connection with nature keeps evolving and has been instrumental, in initiating projects individually or collaboratively such as, "My Planet-My Priority : My People-My Priority" to evoke human awareness with coaching conversations and environment friendly positive actions or projects. Her goals is to elevate the Human Consciousness with her ability to channel their Journey Inside-Out, for them to live a wholistic and fulfilling life. Almost 2 decades of her professional journey which includes her expertise and experience in Human Capital Excellence and Customer Service Experience, taught her to believe in Human and System Intelligence. Her intentions is to synchronize it with her expertise in creating a Breakthrough experience with "Aha" moments. She helps her clients to tap their source energy, which guides them to contribute for their Purpose, Progressive Growth & Calling. She dances in the moment with her Heart work-Coaching, advocates on Natural Living and Plant based Food with Reflective Conversations & Natural Therapy to take the human tribe back to their authentic self, the place where they belong to, for them to create a sustainable community. She believes it cannot happen in isolation without the intervention of the eco system and it encourages her to engage in conversations that matters to beings. An accredited Executive and Life Coach specialized in Relationship Coaching, Mental Fitness Expert, Natural Therapist, Life Mentor and a certified trainer, passing the baton to fellow coaches, mentors and therapists as well, by facilitating learning platforms and conversations, while living her calling with Gratitude. www.improshareglobal.com anushly.sithamparam@gmail.com | anushly@improshareglobal.com
Presenter/Host 2
Rritu Rana Rritu Rana is a Life Coach, Soft Skills Trainer and Founder at Shakhhsiyat-Skills For Significance. She helps individuals and teams in leading from within to achieve next levels in their personal and professional lives. She is an alumna of Delhi School of Economics, the University of Delhi and Bangalore University, where she completed her Masters of Business Administration. She has extensive experience in Personality Development and Resilience Coaching. She is currently working towards taking soft skills training to two tier and three tier cities; taking up projects that help individuals in building resilience to climate change and its impact; and also working towards introducing environmental awareness and its regeneration through training and coaching sessions to co-create a more tolerant world and a sustainable planet. riturana199799@gmail.com
Presenter/Host 3
Katherine Limjoco, Certified Professional Coach; Vice President, ICF Philippines Charter Chapter; Founding Board Member, Coaches Connect Service Cooperative. Katherine has over 20 years of experience in the corporate and business world in Marketing/Advertising, Sales, Account Management, Human Resource Relations, and Recruitment, in the Philippines and in the US. She has also been Entrepreneur, Baker, Copy editor, Human Resource and Fitness consultant, and Business Retail Franchisor. Apart from being multifaceted, Katherine's multicultural background, exposure, and international education have given her the natural facility to navigate in different environments and cultural settings; as well as bridge socioeconomic and cultural gaps. This sensitivity and highly elevated understanding towards the human condition and human behavior set the stage for realizing an innate strength and acumen in individuation, counselling, cultivating values, resolving conflicts, mentoring, facilitating, and coaching. Katherine is a Life and Executive Coach. Her passion for coaching stems from a spiritual ideal to fulfill her soul's purpose by being a collaborative partner in transforming one individual at a time. Be the instrument that inspires them to walk in their greatness and in alignment of their truth. Impassioned by that same desire to make a difference in people's lives, she strives to contribute, co-create spaces for conversations to take place and be a proponent of topics such as healing the earth and empowering women so that collectively, we can make a difference.
Posted By - Anushly Sithamparam
Email - anushly.sithamparam@gmail.com | anushly@improshareglobal.com