Registrations have closed.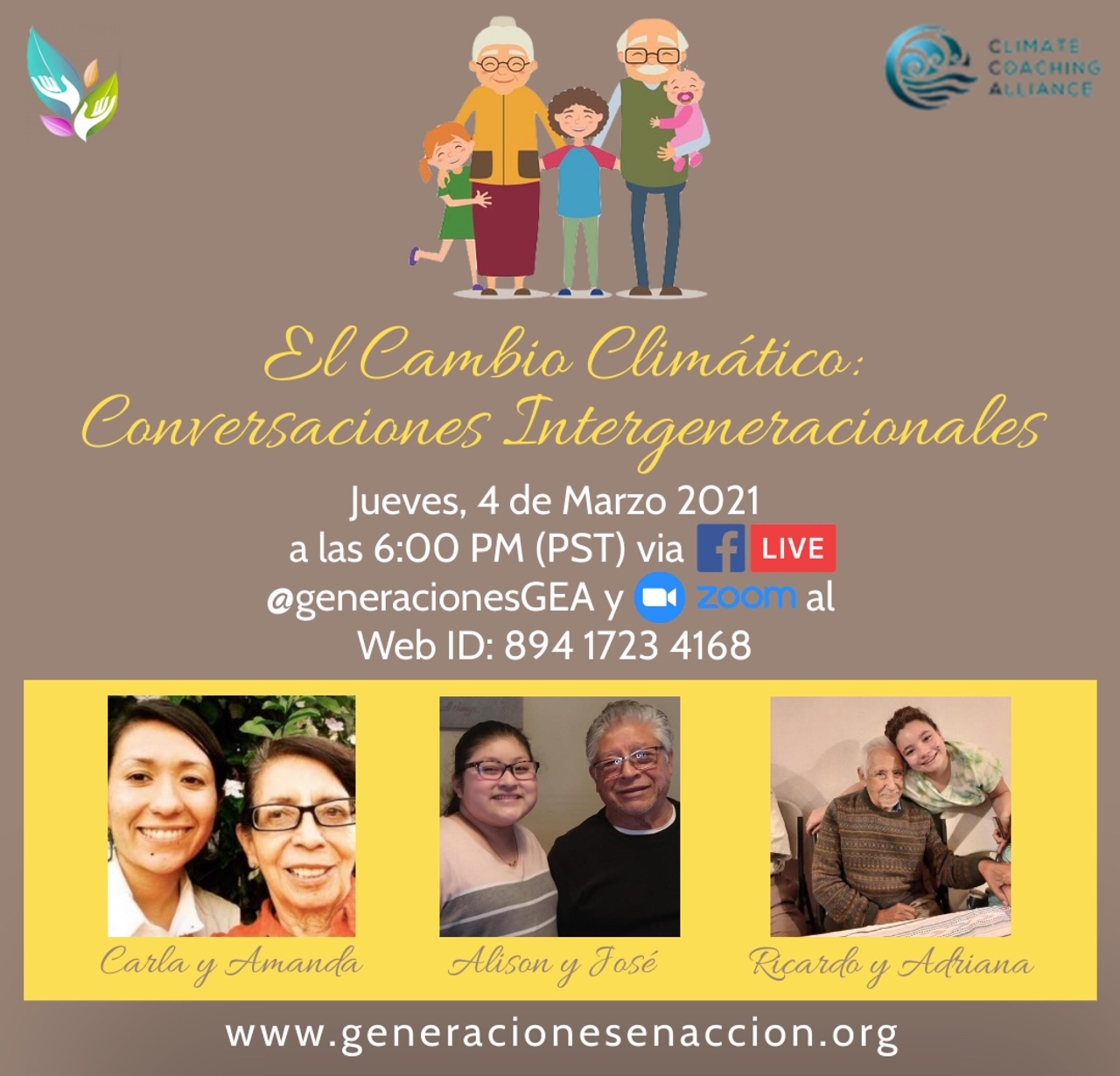 El cambio climático: Conversación intergeneracional, ABUEL@S y NIET@S
649
649 people viewed this event.
3 abuel@s y 3 Nietos: Conversaran sobre como cada un@ de ell@s estan tomando acciones sobre el medio ambiente, como ha cambiando el mundo y como pueden aconsejar a sus niet@s a que cuiden el planeta. Empenzando por su casa, comunidad y el mundo. En español.
Additional Details
Event Timezone Reference - United States
Presenter/Host Bio
GENERACIONES EN ACCIÓN We promote a culture where immigrants understand, defend, and speak out for their own rights as human beings–where they have the tools and empowerment to pursue their personal, professional, and relational life goals.
Presenter/Host 2
PATRICIA VELIZ MACAL Patricia Veliz Macal, a Newfield Network and International Coaching Federation certified coach, has been a transformational coach, community educator and motivational speaker for over twenty years. She holds a degree in Communication Science from the Francisco Marroquín University and a Dramatic Arts degree from the Academia Universidad Popular, both of these institutions of higher learning are based in Guatemala City. Her education, as well as her extensive experience as a communicator and actor, has allowed Patricia to dedicate her time to design and implement educational theater pieces and seminars with palpable and enduring impact. Patricia is an effective and transformational group facilitator, spokesperson, trainer, and presenter. She has designed and led seminars related to communication for leaders, community-driven organizing, leaders' development of self-confidence and self-esteem, public speaking, women's leadership, personal and group development. Patricia's genuine care for community has led her to develop community projects such as The Decision play (La Decisión), an HIV/AIDS educational theater project and the Designing Your Life weekend seminar (Diseñando Tu Vida), among others. In 2015, in a multi-generational partnership with her mother, Amanda Macal, actor and poet, and daughter, Carla Osorio Veliz, a community social worker and community organizer, Patricia published the book and audio book "Los Hilos Que Tejen (Threads that Weave)". The book depicts the powerful voices of 19 Latina immigrant women who have resided in the U.S. for over 20 years. The book celebrates the courage and strength of immigrant Latina women, encouraging them to speak up and to share their journeys, stories of resilience, victories and to succeed against all odds. In 2019, the partnership continued and they released the book and audio book "Los Hilos Que Tejen en el Corazon del hombre Inmigrante" that illustrates the resiliency of 22 Latino immigrant men from seven different countries. We continue to learn from their stories through panels, workshops, and webinars.
Presenter/Host 3
Vilma Dieguez, Coach of The Goldvarg Consulting Group
Posted By - Patricia Veliz Macal
Email - patricia@generacionesenaccion.org