Registrations have closed.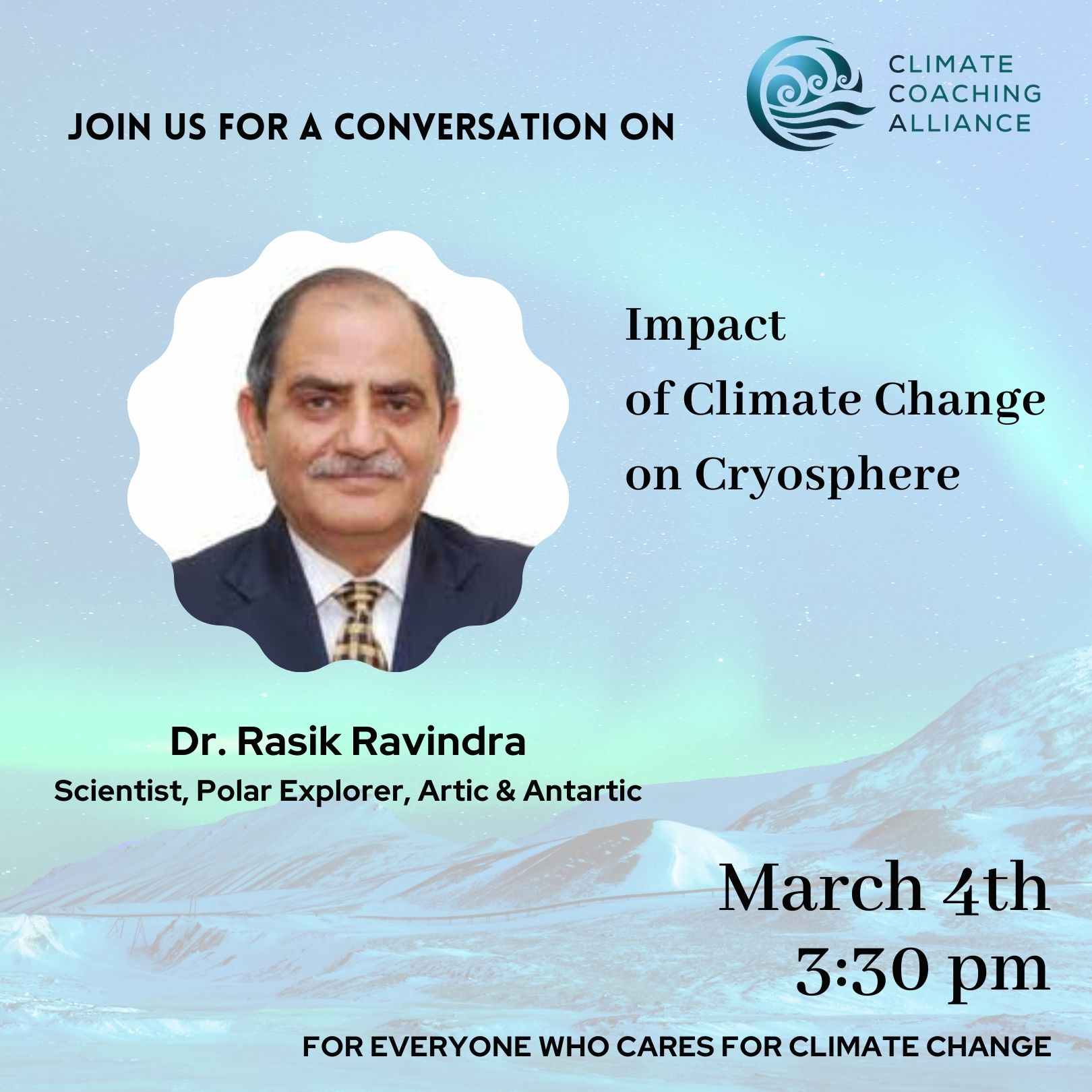 Impact of Climate Change on Cryosphere
678
678 people viewed this event.
The dangers of climate change are real and the need for real action urgent
Some of the glaring points that hint at the alarming situation, given rise due to climate change are:
• Earth has warmed by 0.8 0 C to 1.2 0 C in the last century
• The ecosystem is under stress, Biol. Productive land and water resources for sustaining Eco- system has declined by 30% since 1980
• Sea level is rising
• The Oceans are turning more acidic, increase in CO 2 leads to warming, which then results in less oxygen in our oceans. Less oxygen allows sulphate-eating bacteria to thrive, which produces hydrogen sulphide — a broad-spectrum toxin which is lethal in small concentrations.
This will affect fish species that live or dive deep in the ocean. Most notably it would impact high level predators like tuna and whales, which in turn would have a ripple effect on fish species living in the commercially more relevant shallow waters — up to 200 metres below sea level
• Frequency of extreme events has increased Multi folds, Kedarnath and Rishi Ganga tragedies are just some examples. People the world over are recognizing that extreme weather is becoming normal. Today's storms are more intense and more frequent and more widespread. Droughts, floods, hurricanes, tornadoes, storms and wildfires—all of which are causing increasing death tolls and financial loss. Disastrous weather worldwide has caused many to ask: What is happening? Why so much bad weather? What, if anything, is behind these events? Are they acts of nature, or mistakes of man ?
• Ice caps, glaciers are melting worldwide,
• Arctic Sea is likely to be ice free in another 30 years or so.
• Ice shelves of sizes as large as some smaller countries are breaking off and turning to ice bergs,
• Himalayan glaciers are on the path of retreat
• waterbodies are drying up, constant lowering of groundwater levels
• Social structure in Indigenous tribes and their habitats especially in higher latitudes and/or higher altitudes, are under tremendous stress
• Existence of balance in natural earth system endangered What can we do as habitants of the Earth? All the measures that help in reducing greenhouse gases emission must draw our attention.
These are:
· Reduce fuel emissions: use public transport, prefer pooling cars, Walk the mil
· Participate in plantation programs
· Use of Solar Power and alternate sources of energy to reduce use of Coal and fuel
· Pandemic COVID 19 has shown that if we leave nature to itself, it had the potential to revive itself
· Every individual counts in the "save the earth" Campaign.
Additional Details
Event Timezone Reference - India
Presenter/Host Bio
Rasik Ravindra- Scientist,Polar Explorer,Artic & Antartic Dr Rasik Ravindra, held the position of Director, National Centre for Polar and Ocean Research (NCPOR, the then NCAOR) Goa, between 2006 and 2012, after putting 35 years of active service with Geological Survey of India. He led the Ninth Indian Expedition to Antarctica in 1989, the first Indian expedition to Arctic in 2008 and the First Indian South Pole Expedition in 2010. He was the Leader of the Task Force constituted by Government of India for selection of the site for India's third research Station in Antarctica and the Task Force for Environmental upkeep of Maitri Station in Antarctica. He holds the credit of overseeing establishment of Bharati and Himadari – India's three Polar research stations in Antarctica and Arctic. He also initiated the Himalayan Cryosphere program of Ministry of Earth Sciences He has held the positions of Secretary General, 36th International Geological congress, Deputy Director General of Geological Survey of India, Chair- Panikkar Professor at Ministry of Earth Sciences, Member of the UN Commission on Limits of Continental Shelf; Chair, Asian Forum on Polar Sciences; Chair of the DST Committee on Dynamics of Himalayan Glaciers; Vice Chair of SCAR, and COMNAP – the two international bodies coordinating science and logistics, respectively in Antarctica, among others. He was nominated to meeting of the Experts for IPCC Meeting held in September, 2019 in Monaco. He has been awarded the National Mineral Award, National Award in Polar and Cryosphere, SCAR Medal for International Coordination, IGU Gold Medal, Antarctic Award, Life Time award by Palaeontological Society of India and Professor West Oratory Award, among others.
Email - jayabhateja@abhyudayacoach.com