Registrations have closed.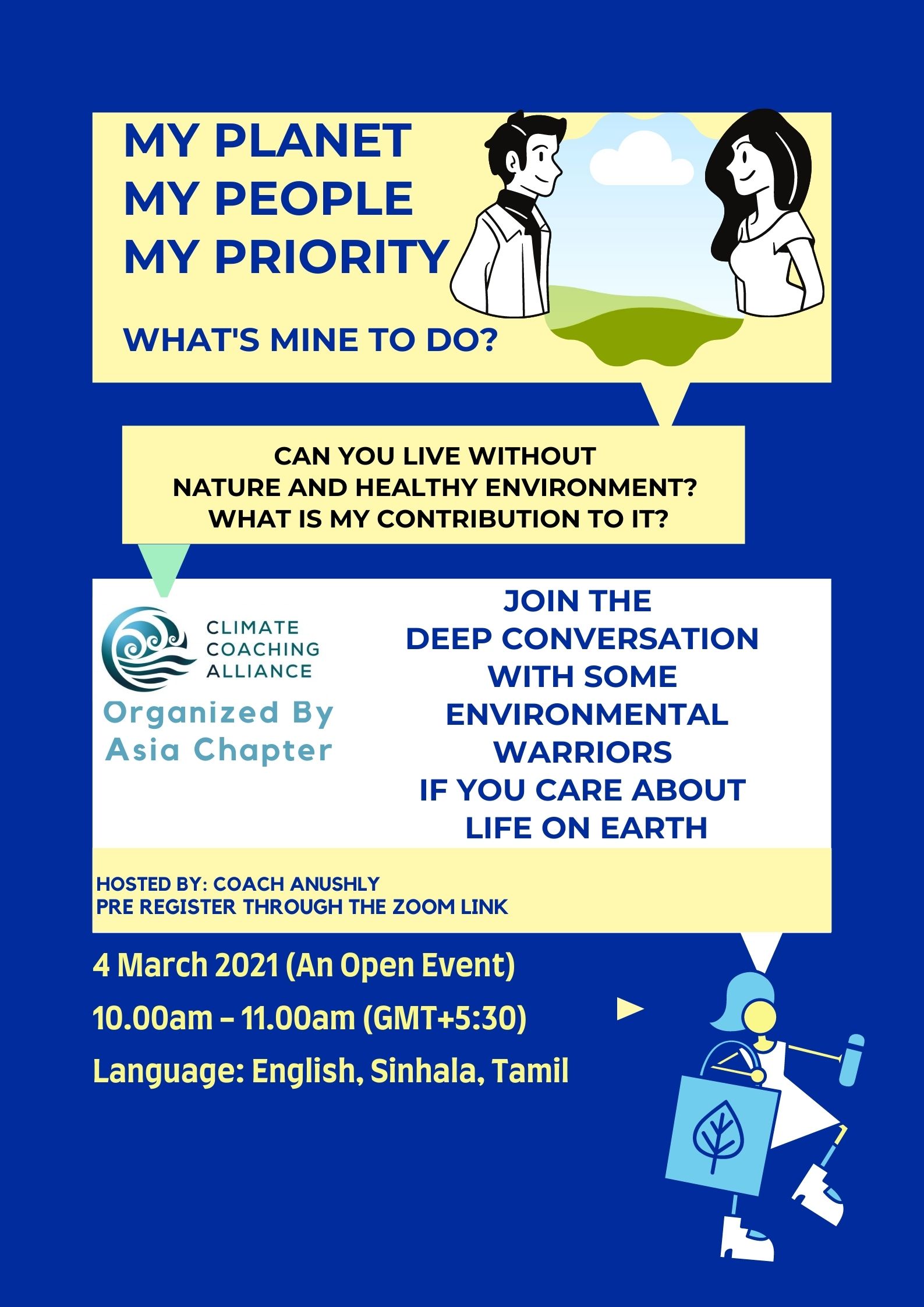 My Planet~My People~My Priority
739
739 people viewed this event.
This is an engaging conversation with Environmental warriors of Sri Lanka, who have contributed positively for the environment. Sri Lanka is a tiny nature centric island, a travel destination nurtured by its home grown authentic beauty and nourished by a welcoming culture with care. This Event is conducted in Local languages (English, Sinhala and Tamil). This conversation is focused mostly within the Sri Lankan contexts to create awareness among the public on how do they contribute to the environment positively or negatively and what they could do in the way forward to contribute consciously and collectively. People contribute to the environment and the environment also contributes for the people. If the environment which is built for our habitat doesn't exist how would we exist? If we don't exist environment or the planet would definitely exist and will be in a better place, since its not harmed by any people activities. The conversation is to create awareness that we need to save ourselves and the environment would take care of its own. This conversation is for people and planet, by the people who care. Its an open event.
Additional Details
Event Timezone Reference - Sri Lanka
Presenter/Host Bio
Anushly Sithamparam Anushly Sithamparam (Host) Anushly Sithamparam is an Executive and Life Coach specialized in weaving Relationships. She is the Founder of ImproShare Global Coaching, Consultancy & Clinic Pvt Ltd, an organization driven on sustainable community wellness & wellbeing. A member of Climate Coaching Alliance, representing Sri Lanka through the Asian Chapter. She is in an evolving journey with the environment and have taken multiple initiatives individually or collaboratively with her "My Planet-My Priority" projects with her coaching and reflective conversations. She dances in the moment with her conversations to connect deeper with the environment. In addition, she advocates Plant based food consumption, Natural Healthy Living and Natural Therapy to take the human tribe back to their authentic self, the place where they belong to, for them to create a sustainable community with advocacy on wellness, wellbeing and deep routed human connection oriented culture. She enjoys hosting environment friendly conversations to elevate the human consciousness. For further details visit: www.improshareglobal.com |anushly@improshareglobal.com |anushly.sithamparam@gmail.com
Event Language - English, Sinhala, Tamil
Posted By - Anushly Sithamparam
Email - anushly.sithamparam@gmail.com | anushly@improshareglobal.com