Registrations have closed.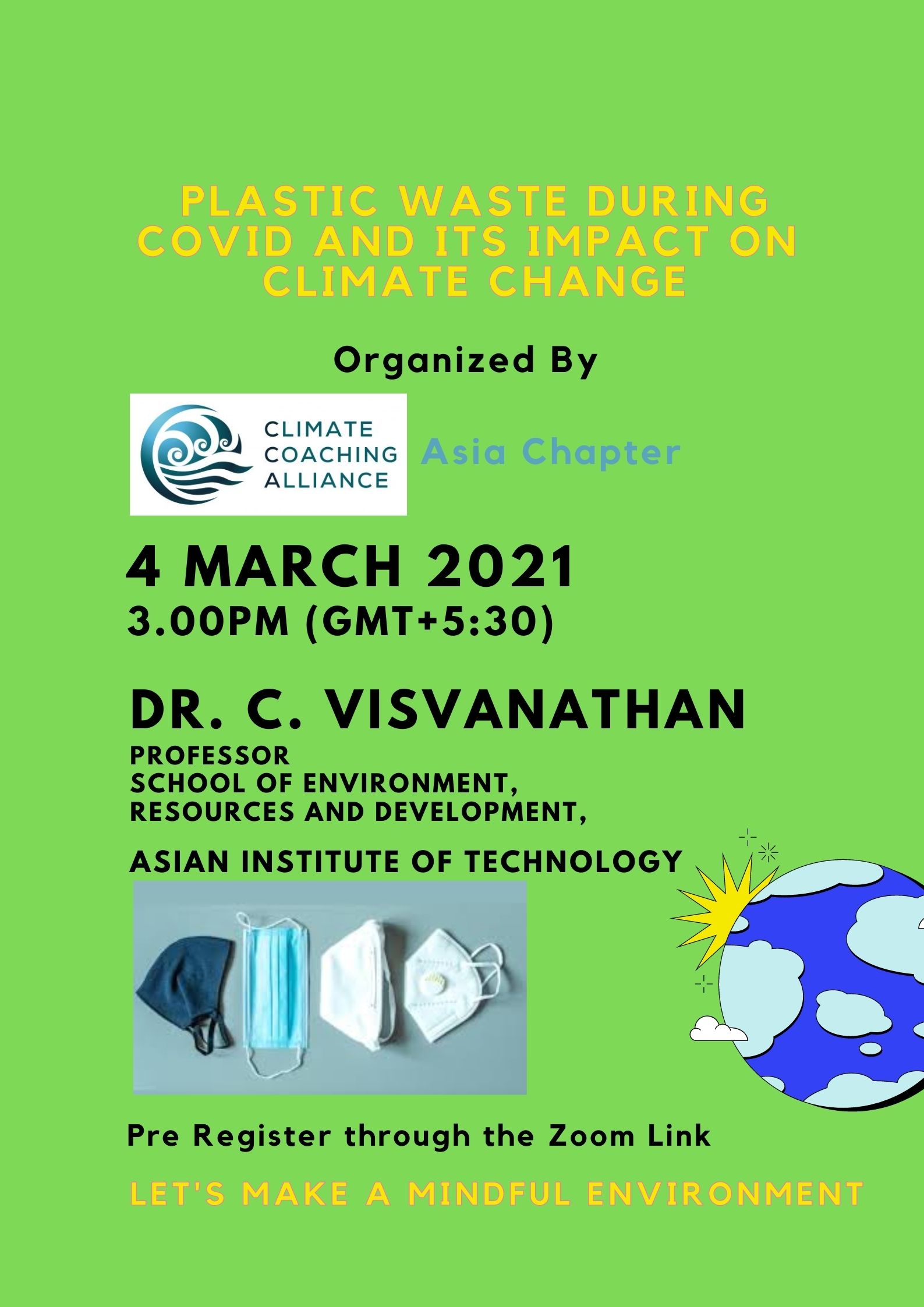 Plastic Usage during Covid and its Impact on Climate Change
700
700 people viewed this event.
Climate change includes both global warming driven by anthropogenic and natural causes of greenhouse gases emissions, and the resulting large-scale shifts in weather patterns. The largest driver of warming is the emission of greenhouse gases, of which more than 90% are carbon dioxide (CO2) and methane. Plastic waste is one of the major environmental problems of the century. Overall, an approximate estimate of about 8000 million metric tons of plastic wastes has been discarded in environment so far. As economies grow, the per capita plastic consumption increases. A more circular approach is required to change from a current linear system to a circular system decoupling the negative environmental and economic impact. COVID-19 pandemic caused a greater shift in the plastic consumption and disposal pattern across the globe. During the pandemic, personal protective equipment (PPE) has driven increased plastic pollution. In response to high PPE demand among the general public, health care workers, and service workers, single-use face mask production in China soared to 116 million per day in February, about 12 times the usual quantity. Packaging industries consume most of the plastics produced and the Corona pandemic greatly influenced the plastic consumption and disposal. As the plastic production increased, the GHG emissions also increase which results in higher climatic impact. The high generation of plastic wastes resulted in increased incineration treatment which exacerbated the GHG emissions due to plastic waste management. In the Philippines, Vietnam and India, as much as 80% of the recycling industry was not operating during the height of the pandemic. Some of the major world economies like the European Union, South Korea, Indonesia have taken positive steps to bring climate friendly policies along with bolstering economic growth. COVID-19 recovery presents both opportunities and threats to enhance our resilience to climate change and environmental pollution caused by plastic waste and this event would help you to explore and reflect around this topic.
Additional Details
Event Timezone Reference - Sri Lanka
Presenter/Host Bio
Dr. C. Visvanathan (Presenter) Dr. C. Visvanathan, is a Professor of the Environmental Engineering and Management Program, School of Environment, Resources and Development, Asian Institute of Technology. He has a Ph.D. (Chemical /Environmental Engineering) from Institute National Polytechnique, Toulouse, France.  His main areas of research interests include: Sustainable Consumption and Production, embrane  technologies for water and wastewater treatment and solid waste disposal and management.  In the field of solid waste, his main research interests focus around waste recycling and reuse, landfill pre-treatment technologies, plus Plastic Waste Management. He has published more than 150 international journal papers.  He has more than 30 years of experiences teaching environmental engineering and management related courses at graduate level at AIT.  His professional experiences include: Project Engineer, Asia Division, International Training Center for Water Resources Management, Sophia Antipolis, France, and short term consultant to UNEP Industry and Environment Office, Paris, France.  Prof. C. Visvanathan is one among the 2% of top scientists in a global list compiled by the prestigious Standford University in the year 2020 For further details visit: http://www.faculty.ait.ac.th/visu/
Presenter/Host 2
Anushly Sithamparam (Host) Anushly Sithamparam is an Executive and Life Coach specialized in weaving Relationships. She is the Founder of ImproShare Global Coaching, Consultancy & Clinic Pvt Ltd, an organization driven on sustainable community wellness & wellbeing. A member of Climate Coaching Alliance, representing Sri Lanka through the Asian Chapter. She is in an evolving journey with the environment and have taken multiple initiatives individually or collaboratively with her "My Planet-My Priority" projects with her coaching and reflective conversations. She dances in the moment with her conversations to connect deeper with the environment. In addition, she advocates Plant based food consumption, Natural Healthy Living and Natural Therapy to take the human tribe back to their authentic self, the place where they belong to, for them to create a sustainable community with advocacy on wellness, wellbeing and deep routed human connection oriented culture. She enjoys hosting environment friendly conversations to elevate the human consciousness. For further details visit: http://www.improshareglobal.com
Posted By - Anushly Sithamparam
Email - anushly.sithamparam@gmail.com | anushly@improshareglobal.com