Registrations have closed.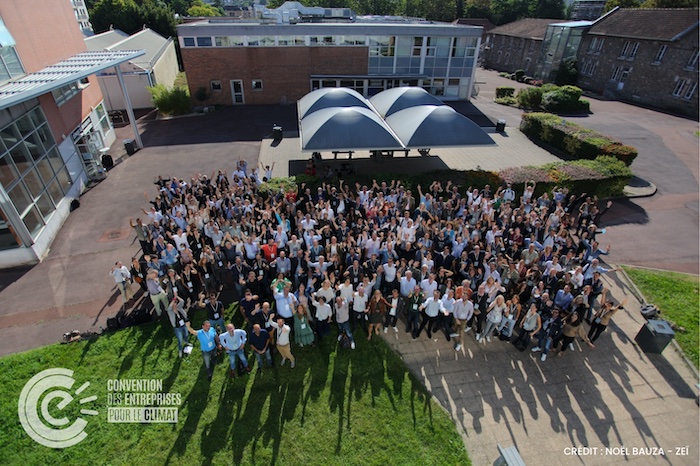 Transforming our Impact: Placing climate action at the heart of businesses
981
981 people viewed this event.
What does it take to co-create transformation in the business sector?
It takes the ability to conceive and create ambitious and actionable commitments that accelerate a sustainable economy.
In September 2020, the Convention des Entreprises pour le Climat (CEC) was founded by Eric Duverger. The purpose? To conceive ambitious and actionable commitments to accelerate the transition to a sustainable economy. Bringing together 150 CEOs and their Planet Champions from all sectors and business sizes in 2021, Eric, together with a team of over 80 volunteers have been working to co-create this transformation. Among the volunteers, 30 coaches and facilitators, among whom several members of the Climate Coaching Alliance FR like Andra Morosi and Roselyne Lecuyer, accompany these leaders on their transition journeys in their basecamp groups over the 8 month period.
Eric, inspired by the "Convention Citoyenne pour le Climat", shares the ambition, the passion and, together with Andra and Roselyne, provide insight into the heart-led transformation that is taking place. They will explore
·       How and why might the Convention des Enterprises pour le Climat make history? What is it and how does it work?
·       What makes "climate coaching" essential to the success of the CEC?
·       How this transformative programme is structured and delivered?
·       Why "climate coaching" should become the new norm?
We will discuss how  CEC + CCA might we together accelerate the emergence of such leadership across the world.
Additional Details
Event Timezone Reference - UK
Presenter/Host Bio
Eric Duverger Eric has worked 20+ years for the Michelin Group, holding mostly Finance and Marketing positions. Coming back to France in the summer of 2020 after an assignment in the US,  he decided to take a 2-year sabbatical to launch the « Convention des Entreprises pour le Climat »,  which goal is to accelerate the engagement of the corporate world into climate action.
Email - info@climatecoachingalliance.org