Registrations have closed.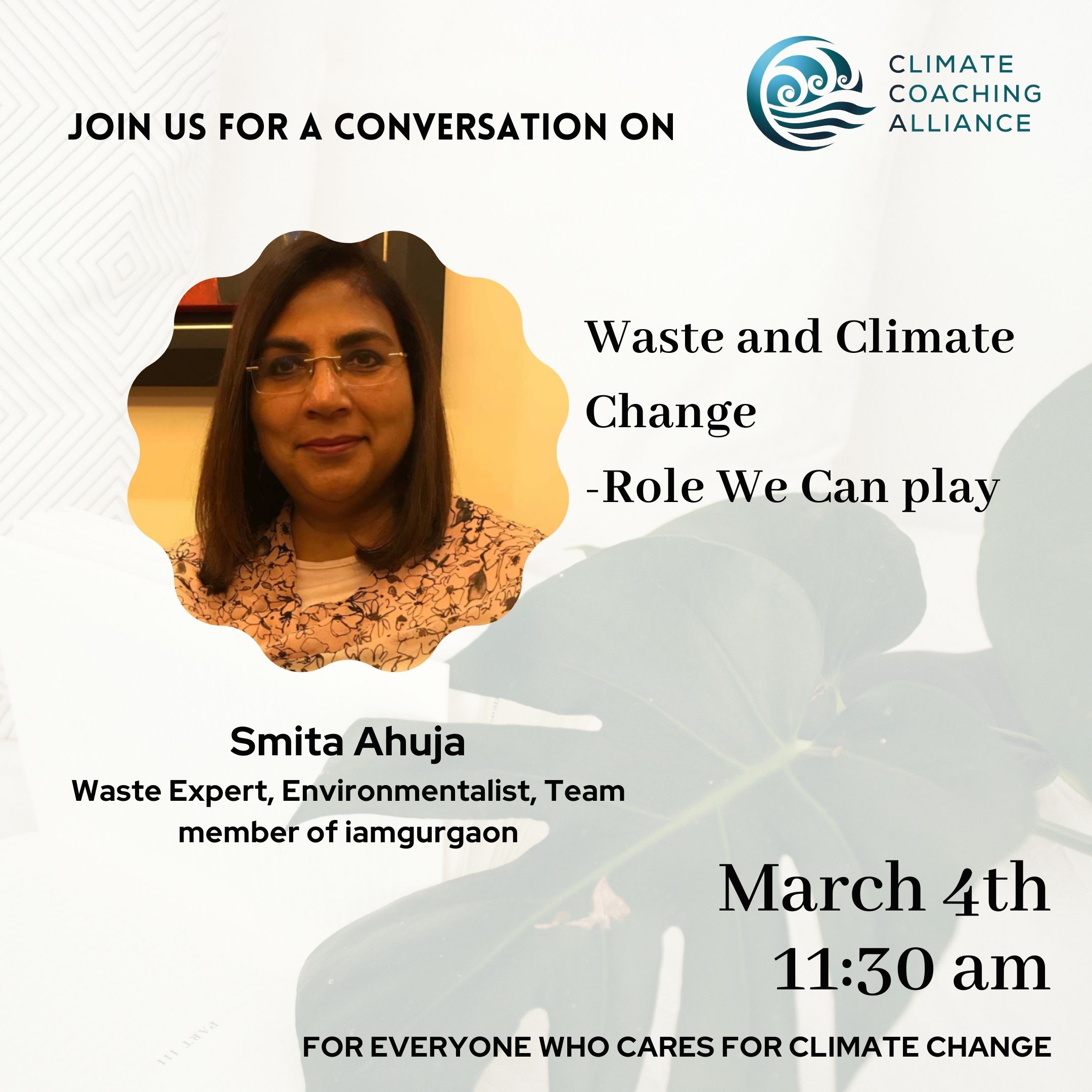 Waste and climate change-Roles we can play
712
712 people viewed this event.
Two Environmental Issues With an Important Underlying Connect
Rising levels of greenhouse gases in the Earth's atmosphere are causing changes in our climate, and some of these changes can be traced to solid waste. The production, distribution,consumption  and the management of the resulting waste-all result in greenhouse gas emissions. Waste prevention and recycling are real ways to help mitigate climate change.
This session attempts to bring out the connection between climate change and solid waste, explains how waste reduction and management can help mitigate effects of climate change.The role we can play in this.
Additional Details
Event Timezone Reference - India
Presenter/Host Bio
Smita Ahuja has lived in Gurgaon for last 18 years and has seen the transformation of this city from a nice quiet city to a congested concrete jungle. The deteriorating environment quality of Gurgaon troubled her and motivated her to start working in the environmental space with special focus on solid waste management. Over the past six years she has been actively involved both at community level and at city level – engaging with multiple stakeholders like government, private sector, civil society, schools, community, NGO's, village self-help groups, in generating a call for action to better manage the solid waste. She has been instrumental in creating a unique space. A waste solutions center "Samadhaan Hub "in Gurgaon that offers residents tools for addressing different categories of solid waste. "Samadhaan Hub" is a special initiative of iamgurgaon in partnership with Municipal Corporation of Gurgaon (MCG) that has become a very popular place and was recently featured in NDTV's Swasth Banega India campaign on 2nd Oct Smita provides guidance and mentorship to start segregation and set waste management systems at school and community level. She has been running a city wide E-waste recycling program since March 2018 . She regularly conducts workshops for individuals, corporates, schools on Waste Segregation and Management, Composting & Horticulture waste management. She has professional work experience of 25 years with corporates like Hindustan Unilever, Reebok, Sterling group, consulting and post graduate teaching . She feels very strongly about individual social responsibility and our collective responsibility in contributing to building a better world for now and future generations. She is an independent resource person and part of the iamgurgaon team working on promoting sustainability and waste management. She is also a part of the Citizens monitoring committee of Municipal Corporation of Gurgaon(MCG) for Solid waste management.
Email - jayabhateja@abhyudayacoach.com