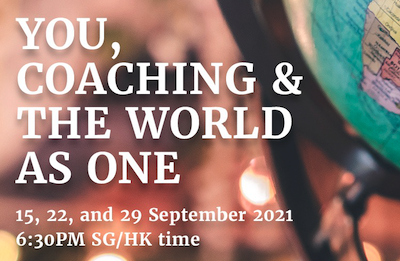 APAC and CCA partnership: You, coaching and the world as one (part 3 of 3)
27
27 people viewed this event.
Be inspired by how some organizations are taking climate change seriously and doing their part to sustain the environment:
• Keppel Corporation will share their robust solutions for sustainable urbanization, to meet the world's needs for energy, infrastructure, clean environments, high quality homes and offices, and connectivity.
• Singtel Group was recognized with Singapore's highest environmental accolade in 2019, the President's award for the Environment. Find out about their early journey and strategy on convergent sustainability and leadership since 2014.
Attendees get to connect and share their takeaways after the panelist discussion.
Additional Details
Event Timezone Is - Singapore
Presenter / Host Bio
Serena Toh is the General Manager of Group Corporate Communications & Sustainability at Keppel Corporation. She also chairs the Energy Efficiency Committee, which drives the Group-wide carbon management strategy, setting and monitoring carbon emission targets across the Group's diverse businesses. She started her career as a journalist with The Straits Times. She was awarded the Raffles Scholarship by the British Council to pursue a Master of Science in Development Studies at London School of Economics. She also holds an MBA from Cass Business School in the UK and a Master in Applied Finance from the University of Adelaide.
Presenter / Host #2
Andrew Buay is the Vice President of the Singtel Group and Optus Corporate Sustainability, leading the Group's climate, environment, social, and community impact strategy. He is also a Talent Coach to over 140 of the Optus Talent and Leaders since 2013, and a mentor to several start-up founders and CEOs in the Singtel Group's regional social innovation program, Future Makers. He is a certified Level 3 coach with the Institute of Executive Coaching and Leadership. He is also co-chair of the Singapore Business Network on disability and a member of the NCSS 4ST Strategic Review Committee set up to guide Singapore's social services strategic roadmap.
Email - info@climatecoachingalliance.org