Registrations have closed.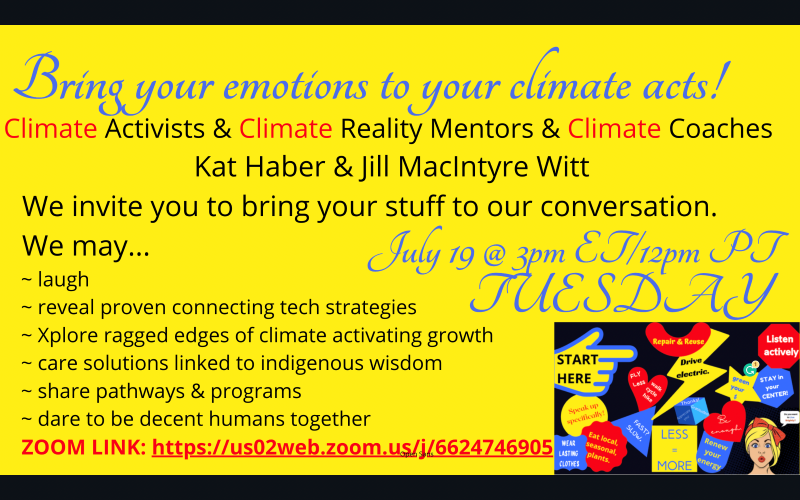 Bringing your emotions to your climate acts!
21
21 people viewed this event.
Please join us tomorrow (7/19, 3pm ET) for our monthly member meeting. We'll be excited to hear from Kat Haber and Jill MacIntyre Witt about Bringing your emotions to your climate acts!
No need to register this month, just join us at https://us02web.zoom.us/j/6624746905
Additional Details
Event Timezone Is - United States
Registration Deadline - Aug 13, 2022
Presenter / Host Bio
Jill MacIntyre Witt has dedicated her life to connect others to protect our planet and defend human rights. She recently completed a Masters in Environmental Studies at Western Washington University. She created a Climate Justice Field Manual, which documents social movement building strategies, effective climate communication tips, and gives a detailed account of incorporating climate justice into the ways we address the climate crisis which she shares in her 'Climate Justice Now! How?' TEDx Talk. The manual can be downloaded at climatejusticenow.earth. Jill teaches at Western Washington University in the Environmental Studies and Health and Human Development departments and also worked for 9 years as the Peace Corps Campus Representative, having served in the Peace Corps in Morocco. Along with chairing her local Climate Reality Project chapter, she recently served on the City's Climate Action Task Force and continues to push for 100% clean energy by 2030 and organizes locally with 350 Bellingham. As a mother of 2 daughters, she doesn't want them asking her why she didn't do anything about climate change when she had the chance. Jill was named one of the UN Top 100 Human Rights Defenders in 2019 alongside Michelle Obama, Greta Thunberg and Malala Yousafzai. Her latest project is climateactivismlab.com, offering a course and coaching on moving people from climate anxiety to action.
Presenter / Host #2
Kat Haber here, meow! Founder, TRUST Climate Action Strategists I get to 💃 through life as a climate action strategist, TEDx Organizer & world ☮️ advocate. ♻️ I help climate-concerned & their networks identify solutions to do daily in their lives in fun ways. What I do: 💥 Climate Reality Leader/Mentor in Chicago since 2013. 👣 Activist: walked across the country (USA) in the Great March for Climate Action from LA to DC from March to November in 2014 & was arrested on November 4, protesting the rubber-stamping of fracking infrastructure at the Federal Energy Regulatory Commission HQ in DC ☮️ Promotor of World Peace as the Charter President of the virtual global WE Rotary Club of International Peace in 2014 ✅ Plant HEIWA Rotary Hiroshima Survivor Peace Trees 💚 ⛷️ Competed for the 1988 Calgary Olympics in aerial freestyle skiing 🇺🇸 Special trick: a quadruple daffy (4 splits 75 feet in the air). 🏅 🏴‍☠️ A mentor with Moonshot Pirates 🏳️‍🌈 World Pulse Digital Empowerment Ambassador ❤️ Inspiring teens & young professionals for world wilderness conservation, serving on the WILD Foundation Board of Directors for 16 years. 💥🦋🐅🐸 🕒 In 2020 lockdown, I curated & produced 28 TEDxVail COUNTDOWN COVID Clues, Climate Acts, Local Impacts online conversations with elders, youth, indigenous, Xperts, CEO's, NGO execs. 🇺🇸 💜 TEDxVail Organizer since 2009. The top talk has racked up 2.8 million views (& counting)! Handy links: 💡TEDxVail Follow @TEDxVail on IG & Twitter & Facebook & YouTube & TED.com - all our TEDx talks are on YouTube / TED.com 💃 ☮️ Great March for Climate Action 📲 DM me on LinkedIn & Facebook
Email - climatecoachingalliance.usa@gmail.com