Registrations have closed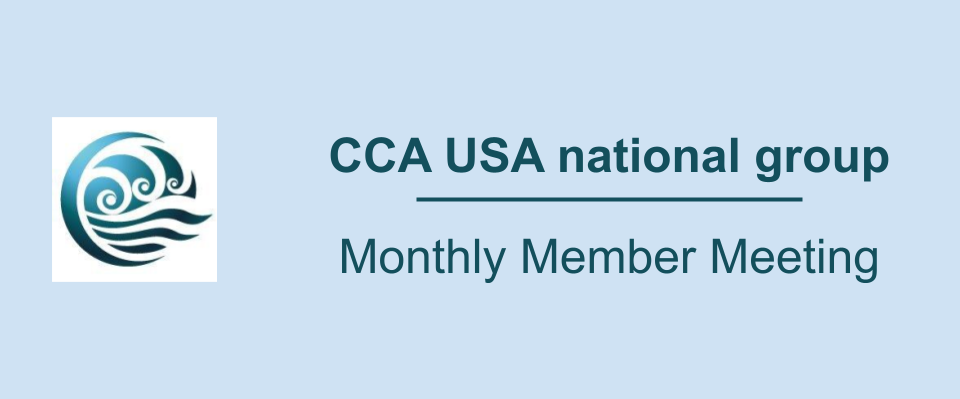 CCA-USA August Monthly Member Meeting
47
47 people viewed this event.
Our August Member Meeting will be on Tuesday the 17th at 12pm PDT, 3pm EDT. Please use this Registration Link to sign up and receive the Zoom link to join us.
Topic: A conversation about climate-coaching approaches, writing as an amplifier of purpose, and tending to eco-grief.
This month Tamara Staton will facilitate the meeting and host a conversation between two climate coaches, Adam Lerner and Chris Gaither. They have taken very different paths and approaches to supporting environmental leaders. Adam and Chris hope that by sharing their personal stories, motivations, and struggles, they might inspire other coaches to see fresh possibilities in their own work. Some topics they intend to explore include:
what calls them to this work
how they speak to and serve their ideal clients
how they use writing to amplify their purpose and impact
how they tend to themselves so they can care for others
Please note that membership meetings will now last for 75 minutes, with the last 15 minutes open for requests, announcements and/or networking. Feel free to stay for this "after-time" if you can. This month Don Maruska will make an announcement about the Climate Health Today project and opportunities for coaches.
Additional Details
Event Timezone Is - United States EDT
Presenter / Host Bio
Chris Gaither - I helped turn Apple into a model of environmental sustainability—and sacrificed my own sustainability along the way. Now I am an executive coach who helps environmental and social-impact leaders, teams, and organizations light up with purpose, drive wide-scale change, and replenish their energy to do the work the earth so desperately needs. I'm also a consultant with X, the Alphabet subsidiary, where I facilitate leadership-development workshops and help senior executives and early-stage project leaders define their moonshot visions. https://www.chrisgaither.com/
Presenter / Host #2
Adam Lerner - My focus is to inspire leaders to act on the courage of their convictions in defense of the living planet and those who inhabit it. I guide companies on alternative climate futures 🌏🔥 at Solvable, write critical perspectives in The Understory ✍, and build community over dinners 🍽. https://www.solvable.ca/ https://theunderstory.substack.com/
Email - phil@resilienceguild.org