Registrations have closed.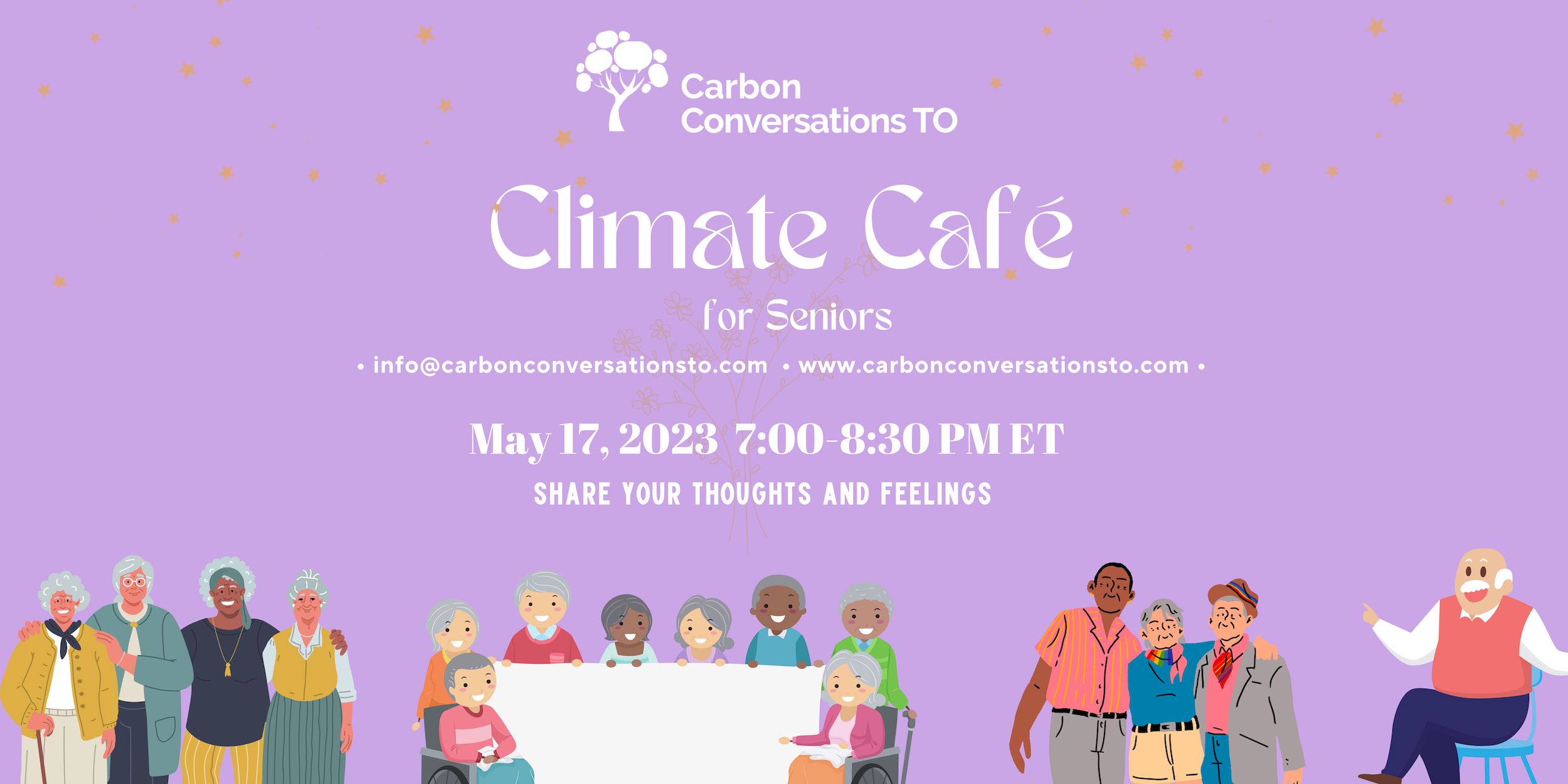 CCTO Climate Cafe for Seniors
105
105 people viewed this event.
This May 17th, Carbon Conversations TO is hosting a Climate Cafe for Seniors, but everyone is welcome. CCTO has been hosting monthly Climate Cafes since September 2022.
Climate Cafe is a warm and welcoming space, with Climate Psychology Alliance trained facilitators, where you share your feelings about the climate and ecological crisis. It is a thinking and feeling space, a haven from busyness and isolation. Come as you are, and share as much or as little as you're comfortable with.
A Climate Cafe is not a space for planning climate action or discussing climate policy. While these actions are very important, they are not the focus of our Climate Cafes. We do this because sharing feelings in a supportive setting helps to build our resilience during this confusing and difficult time.
Learn more about CCTO's Climate Cafes at: https://www.carbonconversationsto.com/climate-cafes
Additional Details
Event Timezone Is - GMT-4
Registration Deadline - May 17, 2023
Presenter / Host Bio
Sandra Cardinal - I am a lifelong environmentalist. I love wild places, family farms, and the vitality of downtown cities. Like you, I want clean air, clean water, biodiversity and the cultural shifts we need to support humans at our very best. Recently retired from the world of higher education and now an empty-nester, the time's right to bring my passion for sustainability to the forefront with a leadership role at CCTO. My experiences as an adult educator, theatre-maker, program consultant, (grand)parent and all-round rabble-rouser are all on offer as I join the CCTO team.
Presenter / Host #2
Mahdi Zangeneh - My experience volunteering as a Climate Action Facilitator (CAF) and facilitating Climate Cafe's has been a great way to participate in a new and unique approach to climate action and engage with members of our local community on climate change issues. I have successfully completed Carbon Conversations Training in 2019 and Climate Action Facilitator Training in 2021.
Posted By - Carbon Conversations Toronto
Email - info@carbonconversationsto.com