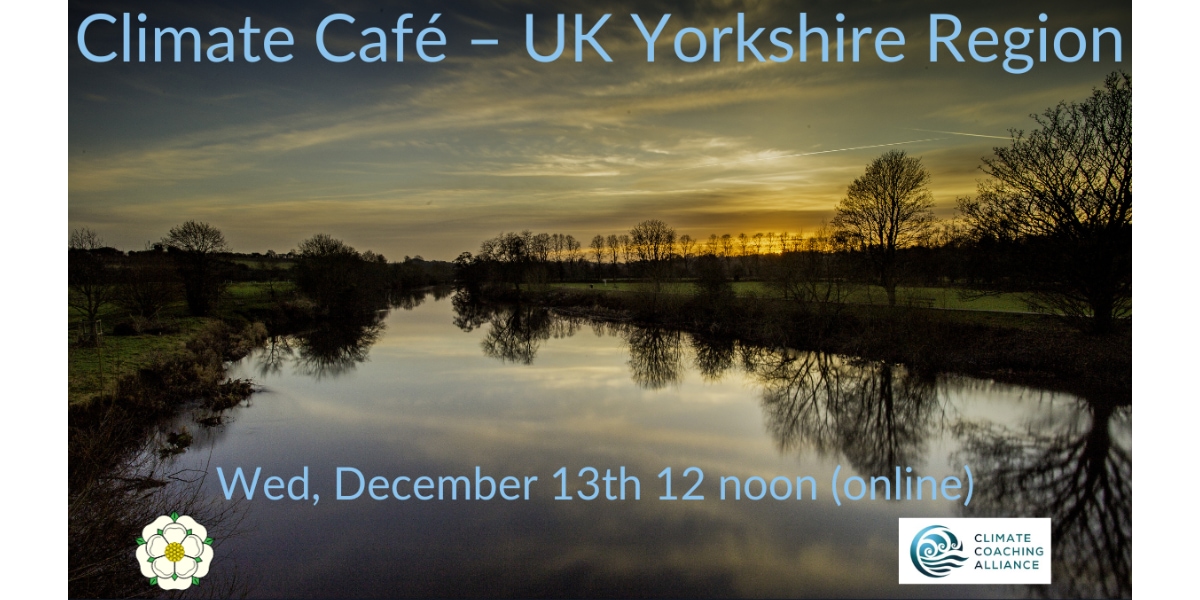 Climate Café – UK Yorkshire Region
55
55 people viewed this event.
This group is aimed at Yorkshire-based coaches with an interest in climate.  It is a confidential, respectful, thinking and feeling space where you can meet with other coaches and express your feelings about climate and ecological breakdown.
This is a deliberately emergent space where you can talk safely and informally about what it means for you in your personal and professional life, perhaps find common ground, and listen to others' experiences, thoughts and feelings.
Attendees bring whatever they wish to bring, and there is no expectation of more than that.
Because the focus is on each person present, what you are curious about, what is emerging for you in the field of climate and sustainability, there are no guest speakers, no lectures, no advice and no expectations that you will join any cause or take any action, although of course if you want to, that's up to you.
This event will be useful for whatever phase of the Eco-Cycle you currently most resonate with.
Additional Details
Event Timezone Reference - London - GMT
Presenter/Host Bio
Jan Brause is a professional coach and coach supervisor who loves enabling senior leaders, business owners, individuals and coaches to excel in their roles and to inspire and engage those around them. She is a member of the Association for Coaching and works across the public and private sector as well as not-for-profit.  
Jan is an Accredited Coach Supervisor with the Coaching Supervision Academy and a volunteer member of the Association of Coaching Supervisors.  She believes in providing a safe, stretching and confidential space for both coaches and supervisors to explore their work and add value for their clients.  

Jan is the joint coordinator of the Climate Coaching Alliance Yorkshire UK Regional Community Group. More information here https://www.linkedin.com/in/janbrause/. 
Presenter/Host 2
Matthew Sutcliffe is a writer and professional coach working with anyone who is looking for that 'something else'. His approach is to develop awareness through noticing and accepting of what actually is, stripping out the unchallenged narratives that can get in our way, achieved in a safe, supportive space. He is a Board member of a local Multi Academy Trust and a non-executive Director of Glint, an equine-facilitated leadership, learning and development organisation. Matthew is the joint coordinator of the Climate Coaching Alliance UK Regional Community Group. More information here https://www.linkedin.com/in/consciouscoaching
Posted By - Matthew Sutcliffe
Email - matthew@theconsciouscoaching.co.uk