Registrations have closed.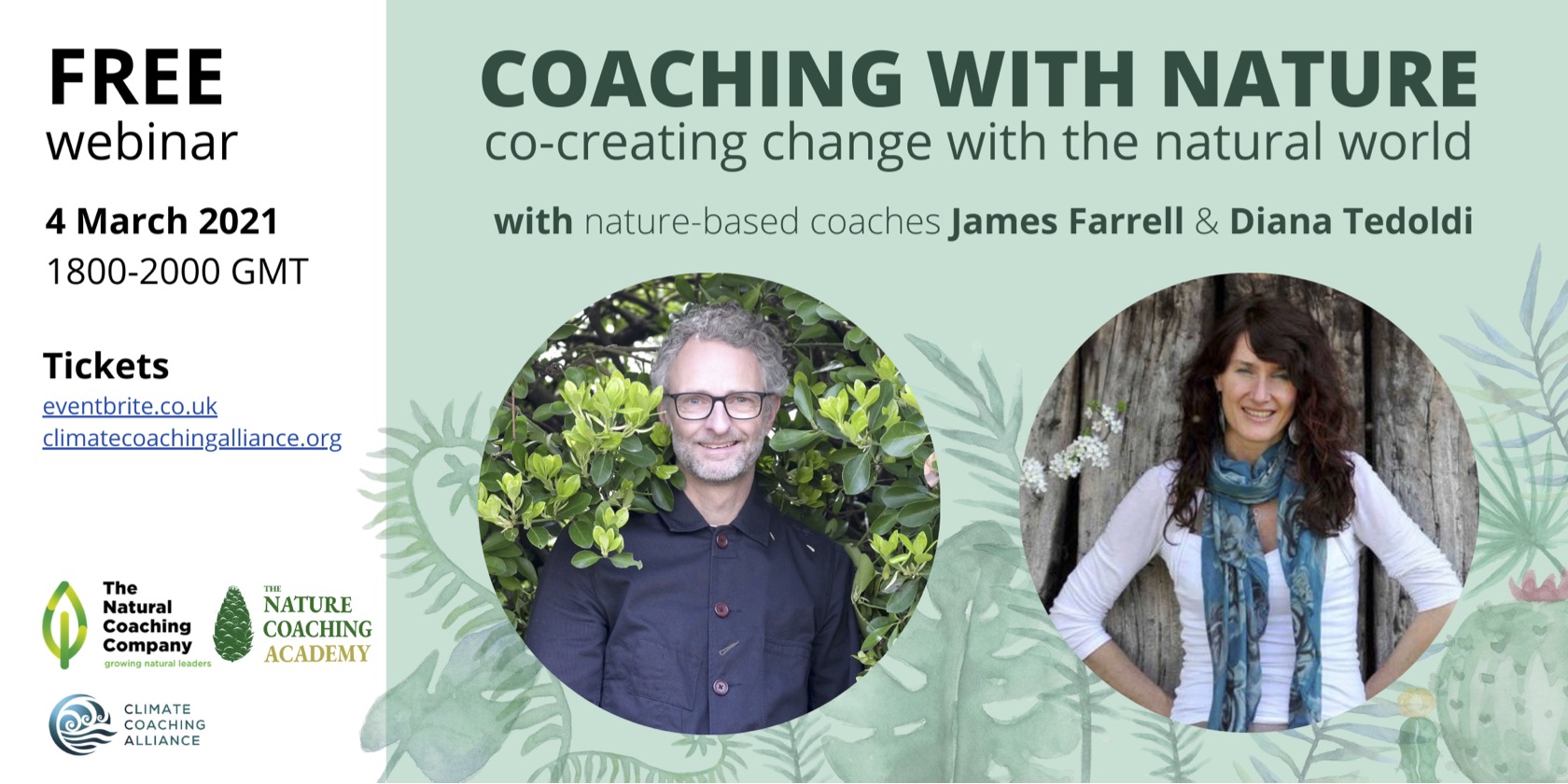 COACHING WITH NATURE: Co-creating change with the natural world
1082
1082 people viewed this event.
An interactive workshop to explore how coaches can co-create change by working with the natural world indoors and out.
In this workshop, hosts James and Diana will share their frameworks and approaches, and provide an evidence-based introduction to nature-based coaching. There will be a guided practice, and plenty of time and space for discussion. Attendees will be encouraged to bring their own perspectives, and help us create a rewarding dialogue about how working with nature as partner can enhance our practice, and lead to benefits for ourselves, our clients, and the planet.
James and Diana's work has evolved independently to incorporate nature and natural thinking. They share a passion for wildlife, wild landscapes, and a philosophy and practice in which humans are part of nature.
This workshop is delivered in association with The Climate Coaching Alliance as part of the 24 Hour Conversation, 4 March 2021 – it is suitable for coaches in all stages of the Eco-phase cycle.
Additional Details
Event Timezone Reference - United Kingdom
Presenter/Host Bio
James is a Chartered Environmentalist and Associate Certified Coach (ACC-ICF). He believes passionately in the human connection with the natural world, and particularly the health benefits it brings. He brings this nature-based approach into his work as Director at The Natural Coaching Company. James lives with his family in Brighton. He is Founding Partner at The Human Nature Partnership, which enables individuals and organisations realise the benefits of nature-connection. He also works at a Government agency. The Natural Coaching Company The Human Nature Partnership
Presenter/Host 2
Diana is a Professional Certified Coach (PCC-ICF), C-Level and team coach, and founder of The Nature Coaching Academy, where she teaches how to coach in connection with nature. She is also the co-founder of Biomimicry For Business, an innovative learning hub for change-makers and leaders wishing to co-create business environments inspired by nature's genius. Diana lives in Italy and is a nature enthusiast, dedicated to nurturing a worldwide biophilic community of nature-connected coaches and professionals, to co-create a new alliance between Sapiens and Earth as a living, interconnected, brilliant and awesome system. The Nature Coaching Academy (http://naturecoaching.net) Diana Tedoldi (http://dianatedoldi.com)
Posted By - James Farrell
Email - james@naturalcoachingcompany.com