Registrations have closed.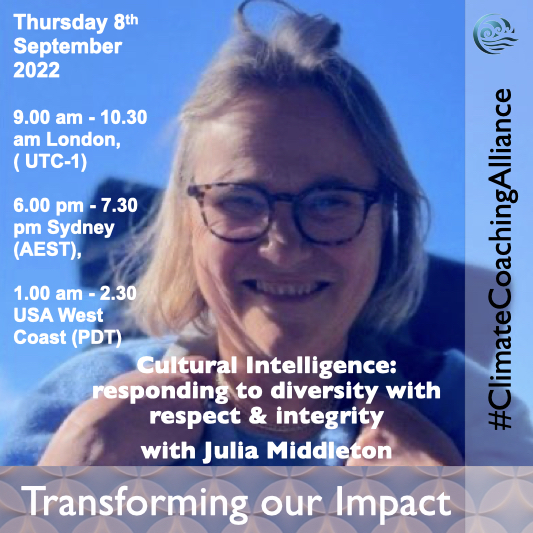 Cultural Intelligence – Responding to diversity with respect and integrity
135
135 people viewed this event.
The core of effective coaching is understanding clients on their own terms and communicating inclusively with them. As CCA coaches, our common interest in creating sustainable futures, spans global concerns, regional issues, and the cultural diversity we encounter. It takes Cultural Intelligence to know how best to coach people from many diverse backgrounds.
In this session renowned expert on Cultural Intelligence, Julia Middleton will share her model for embracing cultural diversity with respect and integrity. She is the author of two bestselling books: Beyond Authority and Cultural Intelligence. Julia is also the founder of Common Purpose & Women Emerging. She is passionate about helping people from all backgrounds to develop as leaders and make an active and tangible contribution to their communities and the wider society.
This session will answer the questions:
Why is developing our Cultural Intelligence vital for creating sustainable futures?
How can we bring out the best in ourselves and our clients in intercultural situations?
BEFORE THIS SESSION – please watch Julia's TED talk – Cultural Intelligence: the competitive edge for leaders.
Additional Details
Event Timezone Is - United Kingdom
Registration Deadline - Sep 29, 2022
Presenter / Host Bio
JULIA MIDDLETON In the autumn of 1989, Julia founded Common Purpose, which has grown to be one of the biggest leadership development organizations in the world. Julia stepped down from the position of Chief Executive in 2019. As Founder Julia works in a non-executive capacity on some key Common Purpose initiatives. In April 2020 she launched Women Emerging from Isolation which she now leads. Julia is also a member of the Advisory Groups of both Common Purpose in Pakistan and the Sky Blue founders Group and is a Patron for Common Purpose of the Europe101 initiative. She is on the board and chairs the investment committee of Alfanar (delivering Venture Philanthropy in the Arab World), is on the International Advisory Council for Fundação Dom Cabral (a business school in Brasil), is a Senior Fellow of Babson College, is a trustee of The Wren Project (supporting people with autoimmune conditions) and is a Goodwill Ambassador of the Aurora Forum (a global humanitarian initiative run out of Armenia). Julia was born in London and educated at French Lycées around the world. She worked for the Industrial Society after receiving an economics degree from the London School of Economics. She is married and has five children, one daughter-in-law, one son-in-law, and one granddaughter.
Presenter / Host #2
Co-hosted by LYDIA STEVENS and DIANA COLLETT
Posted By - Diana Collett
Email - diana@dianacollett.com