Registrations have closed.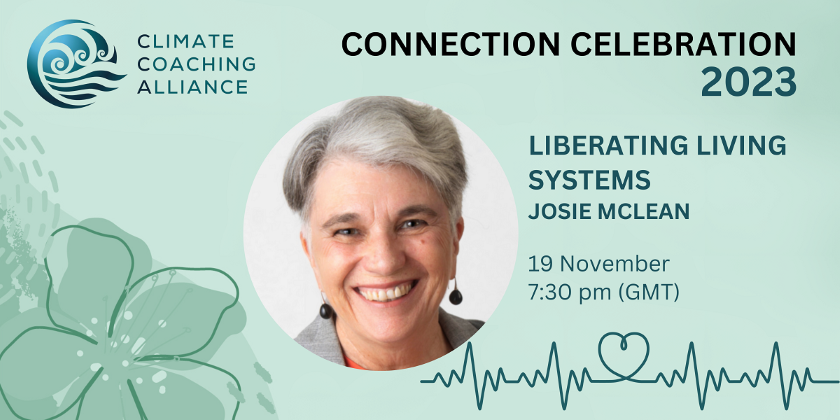 Liberating Living Systems
330
330 people viewed this event.
Join us for the launch of the connection celebration and a special thought-provoking session that underpins the CCA way of working and shows how we can connect consciously in navigating the path ahead.
We are living systems and therefore already know much about how living systems behave and interact. However, in modern western cultures we are also imprinted with a number of beliefs about the nature of the universe and how it operates that are more reflective of mechanistic science of 300 years ago. By contrasting the two paradigms using organisational life as an example, we will:
• expand our own awareness
• become more sensitive to the very different characteristics of these two worldviews
• open ourselves to different pathways for change as we attempt to address complex challenges such as climate and ecological crisis.
Josie's fundamental idea is that it is the unconscious mechanistic assumptions embedded within western organisational cultures, that need to be identified, challenged, and cleared out of the way to liberate the natural ways of being and doing that are already present in every human. This process can transform an organisation and maybe a society. This webinar will also include an opportunity for Q&A.
Additional Details
Event Timezone Reference - UK
Registration Link - https://us02web.zoom.us/meeting/register/tZIpfu2prj8oEt362aXuEzLofKOUR4zOQIhs
Presenter/Host Bio
Dr Josie McLean has extensive experience as a catalyst for systemic change. She has seeded new ways of seeing and doing things by helping individuals, teams, and communities identify and rethink the unconscious assumptions by which they are being held captive. Josie founded The Partnership in 1999. After an early career as a financial analyst and a corporate strategic planner, Josie is now internationally- recognised as a pioneer of the Australian coaching industry. Josie is well-known for her work in developing leaders; individually through executive coaching assignments, within teams using a team coaching approach, or in leadership development programs. Josie helps leaders apply the principles of complexity or living systems to their leadership challenges, and lead effectively through uncertainty. She has been a lead facilitator for the Governor's Leadership Program since 2013. Her practice also includes international clients seeking to support humanity's transition to a regenerative culture. Josie's doctoral research, Embedding sustainability into organisational DNA: a story of complexity, was examined by leading international systems academics/researchers and awarded the Dean's commendation for excellence in doctoral thesis research. She is one of the cofounder of Climate coaching alliance in 2019.
Posted By - Fiona Chandler
Email - chanderanfarm2375@gmail.com