Registrations have closed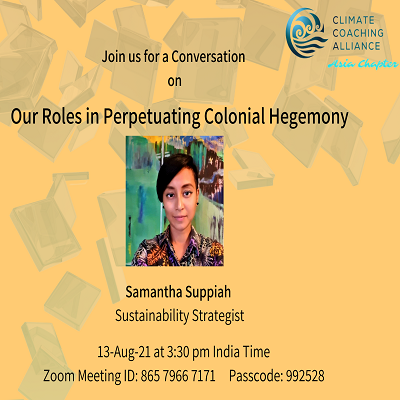 "Our Roles in Perpetuating Colonial Hegemony"- an Interactive conversation
135
135 people viewed this event.
How did climate change come about?
When did we become unsustainable?
What were the regional and global forces at play?
We take a look at a radically different perspective of history giving rise to our accelerating global crises today – through an interrogation of the dynamics of global power structures from the first colonial empires. Making these patterns of power more visible helps us sift through propaganda internally and externally to really begin doing real work.
Additional Details
Event Timezone Is - India
Presenter / Host Bio
Samantha Suppiah, Sustainability Strategist Samantha is a design strategist for sustainability and regeneration, with particular expertise in engineering, architecture and urbanism.  She has a broad global perspective with a bold, radical approach to co-creative, iterative design strategy.  Having trained and worked in British and Swedish building and urban design firms, Samantha is currently based in Southeast Asia, exploring emergent initiatives rising to meet the vast challenges facing Southeast Asian cities and their hinterlands. www.urbandoughnut.asia | www.possiblefutures.earth
Presenter / Host #2
Jen Horn Jen plants seeds and holds space for reconnection and regeneration, as founder of Muni, a community for reflections and conversations on creating a more mindful and livable world; as writer, producer and host of the Muni on This podcast; as a sustainability lecturer at the Leadership & Strategy department of Ateneo de Manila University's School of Management; and as a certified transformational coach with Haraya. She is also a researcher on sustainability leadership and motivation. Learn more and connect with her via linktr.ee/jenhorn.
Posted By - Rashmi Shetty
Email - rashmi.thethirdeye@gmail.com