Registrations have closed.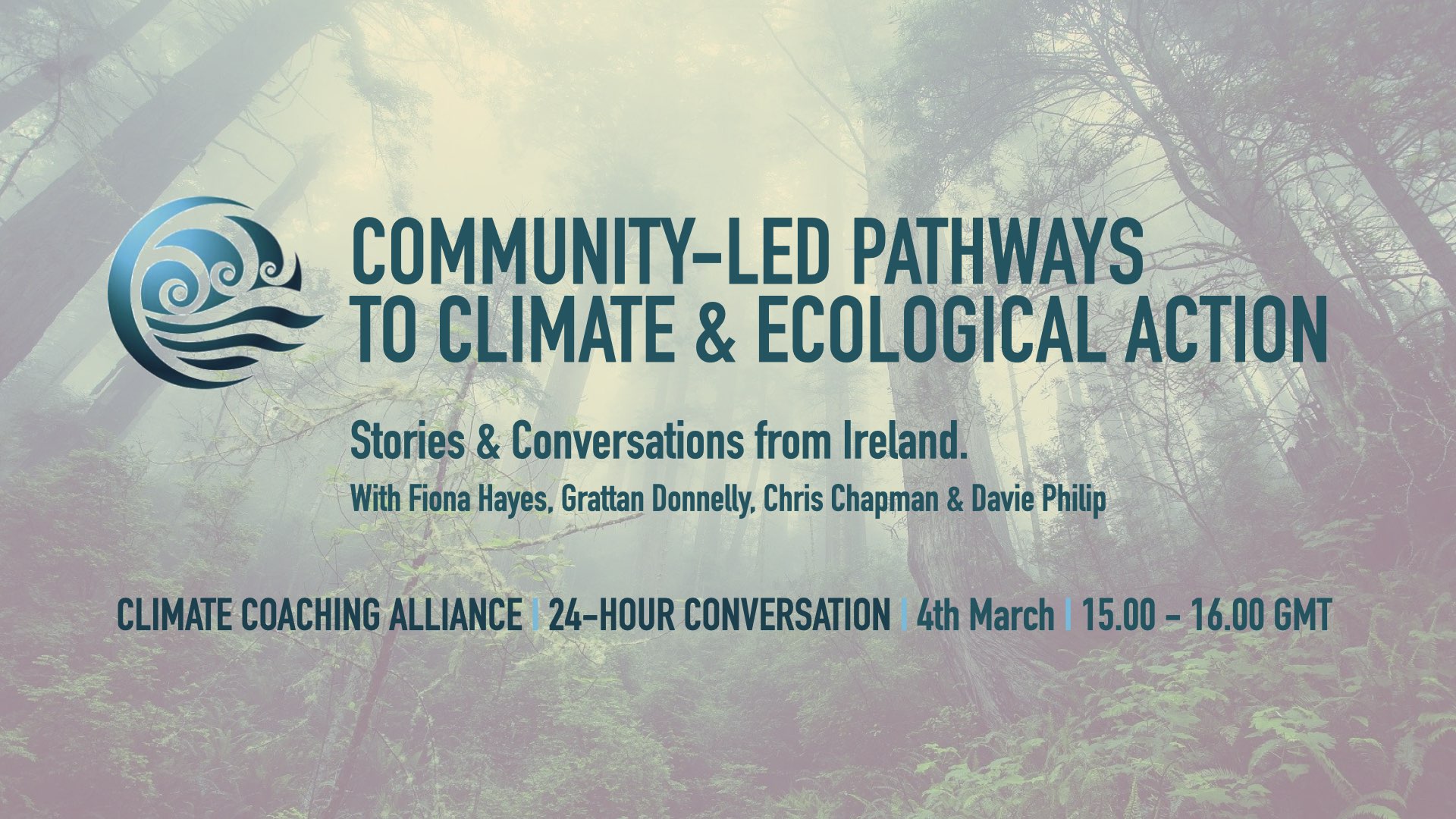 Stories & Conversations from Ireland. Community-led pathways to climate and ecological action.
839
839 people viewed this event.
This session will explore community-led pathways that can help us protect nature and build more resilient communities. It will include short presentations from Fiona Vincent, who will introduce the Law of Ecocide and the growing community of Earth Protectors, and Davie Philip, who will introduce how we might enable a community-led approach to coping with the climate and ecological emergency. A facilitated conversation weaving insights and reflections from participants will be held by Chris Chapman, and Grattan Donnelly will lead a short meditation.
15.00 – Opening
15.05 – Meditation let by Grattan Donnelly
15.10 – Stories from Fiona Hayes and Davie Philip
Earth Protectors. What would it be like if we lived our lives as if the Law of Ecocide was already in existence? How would we work towards becoming regenerative communities facilitating the transition from harm to harmony?
Community Catalysts. How might we enable a cooperative, community-led approach to regional resilience?
15.25 – Conversations on what is emerging held by Chris Chapman.
Additional Details
Event Timezone Reference - Dublin
Presenter/Host Bio
Chris Chapman, is an experienced coach and facilitator of systemic dialogue, working both at a local community level and also in the transformation of complex systems through greater inclusion and participation. Grattan Donnelly, is a qualified mindfulness teacher, Regenerative Leadership Coach, and a coach trainer. He supports people to deepen their awareness of the environmental crises, and  move to wise action.
Presenter/Host 2
Fiona Hayes, is an Executive Leadership Coach and founder of Stop Ecocide Ireland, she is currently helping to create Earth Protector communities.  Davie Philip, is a facilitator and trainer active in Ireland promoting climate justice and community resilience. He is based in Cloughjordan Ecovillage and currently Co-President of ECOLISE, the European network for community-led initiatives on climate change and sustainability.
Email - davie@cultivate.ie