Registrations have closed.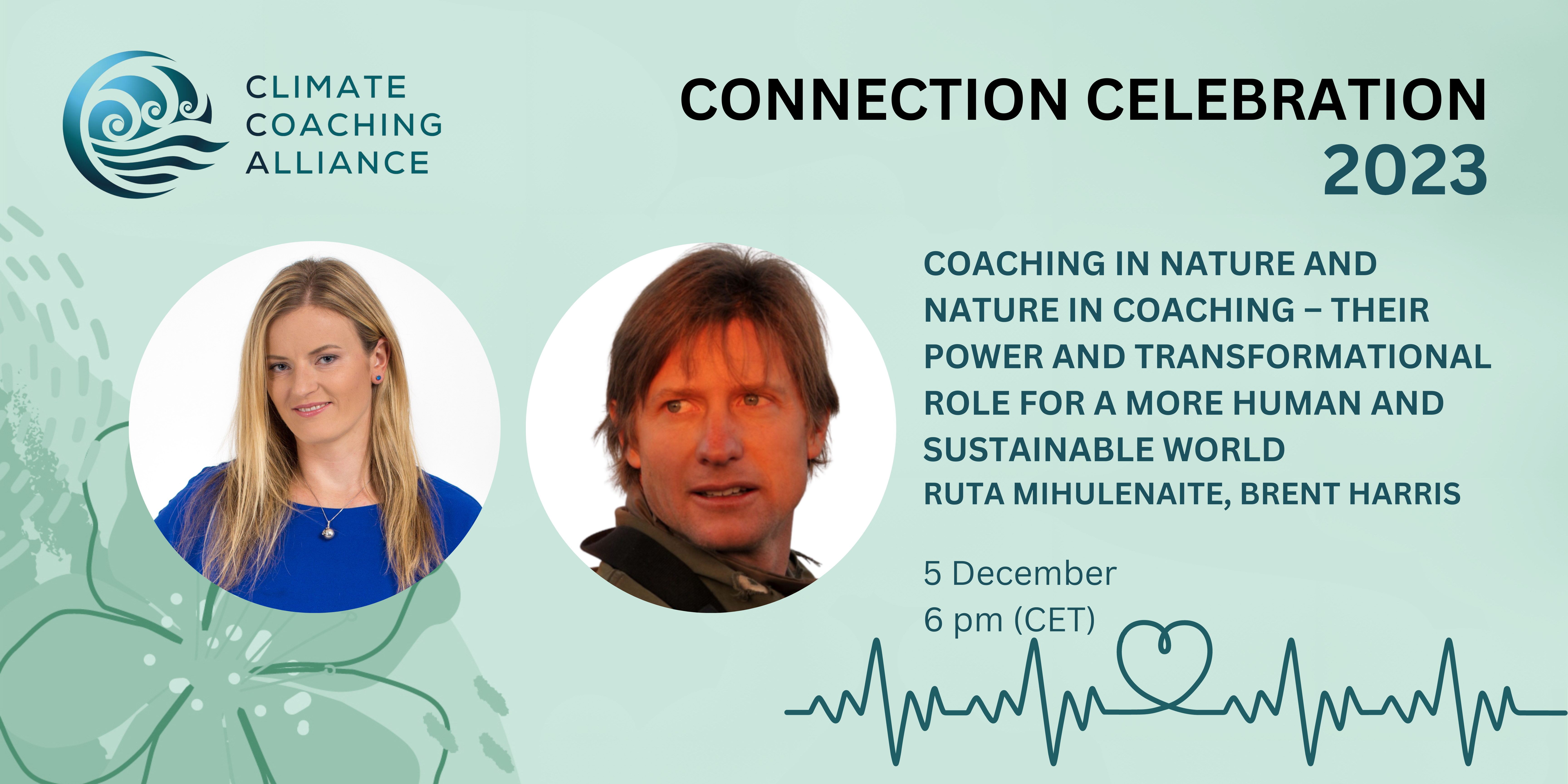 The power of coaching in nature and nature in coaching – a transformational pairing for a more humane and more sustainable world
297
297 people viewed this event.
What do deep connection and close observation of nature enable us to do?
How can we engage with nature from a sensitive and emotional perspective?
We live in a world that is increasingly disconnected from nature. This human disconnection from the natural world presents a real concern. Humans are becoming increasingly desensitized and unable to appreciate the magnitude of what is occurring (e.g. melting glaciers, droughts, loss of biodiversity); the impact it will have on current and future generations as part of a highly interconnected and interdependent system; and the possibilities that exist to do something about it. As a result, they feel less directly concerned and less compelled to engage and act.
Join us in a conversation with two highly knowledgeable and experienced nature coaches who use the wilderness in Africa and the majestic Swiss Alps as spaces for people to reconnect with nature and its complex, perfect system, reconnect with themselves, and enable a unique level of awareness, mindfulness and a renewed sense of agency. The conversation will include the testimonies of participants who have benefitted directly from coaching in nature, who will share how their experience impacted them.
What you will learn:
What coaching in nature is and why it is powerful and necessary.
Different philosophies and geographical perspectives of this type of coaching.
Best practices and stories, and how to make it impactful during and beyond the coaching in nature experience.

Guest Speakers:
Brent Harris, Founder, Guide and Coach, Primal Pathways, South Africa
Ruta Mikuleinate, Founder, Mountain Leader, Coach, Be Outside Coaching, Switzerland

Moderator/Facilitator:
Hazel Farrer, Nature and Wellbeing Coach, Corporate Trainer, CCA Coaching in Nature Pod Lead
Participants:
Åsa Maria Granados and Diego Raiteri, CCA SWISS; Andra Morosi, CCA GCP Community Building and Co-Founder CCA FR
Additional Details
Event Timezone Reference - Switzerland
Registration Link - https://us06web.zoom.us/meeting/register/tZYtfuCqqTsiHdVxvXM1cTLTZEGQMNtb6Fc8
Presenter/Host Bio
Brent Harris Brent is the founder of Primal Pathways and has worked as a safari wilderness guide since 2001. In addition to guiding, Brent is an Integral® Coach and facilitates and trains coaches to utilise the wilderness in development processes with their clients. Brent is uniquely qualified to lead sensitive animal encounter experiences and he believes that nature has a voice of its own and. In nature, there is no separation between the inner and outer landscape. Our physical, spiritual, emotional and cognitive experience merges with our surroundings, and we can witness deeply embodied leadership qualities and life lessons that invite us to broaden our own fields of view for a truly transformational experience. While continuing his own soulful enquiry into nature, Brent shares his unique insights on animal behaviour through wilderness trails and as a keynote speaker at events internationally.
Presenter/Host 2
Ruta Mikuleinate Ruta is a professional neuro-coach (Neuroleadership Institute, London), forest therapy guide (Association of Nature and Forest Therapy, USA) and Mountain Leader (Association of Moun-tain Guides in Switzerland). In her coaching and facilitation with teams and individuals, Ruta combines research based nature connection practices and coaching empowered by neurosci-ence. By creating Be Outside Coaching movement, she has connected her 2 major passions: activi-ties outside and human development. Through her nature retreat and trekking initiatives, Ruta has taken few hundred women with different backgrounds, nationalities Outside.
Posted By - Diego Raiteri, CCA SWISS
Email - swiss@climatecoachingalliance.org