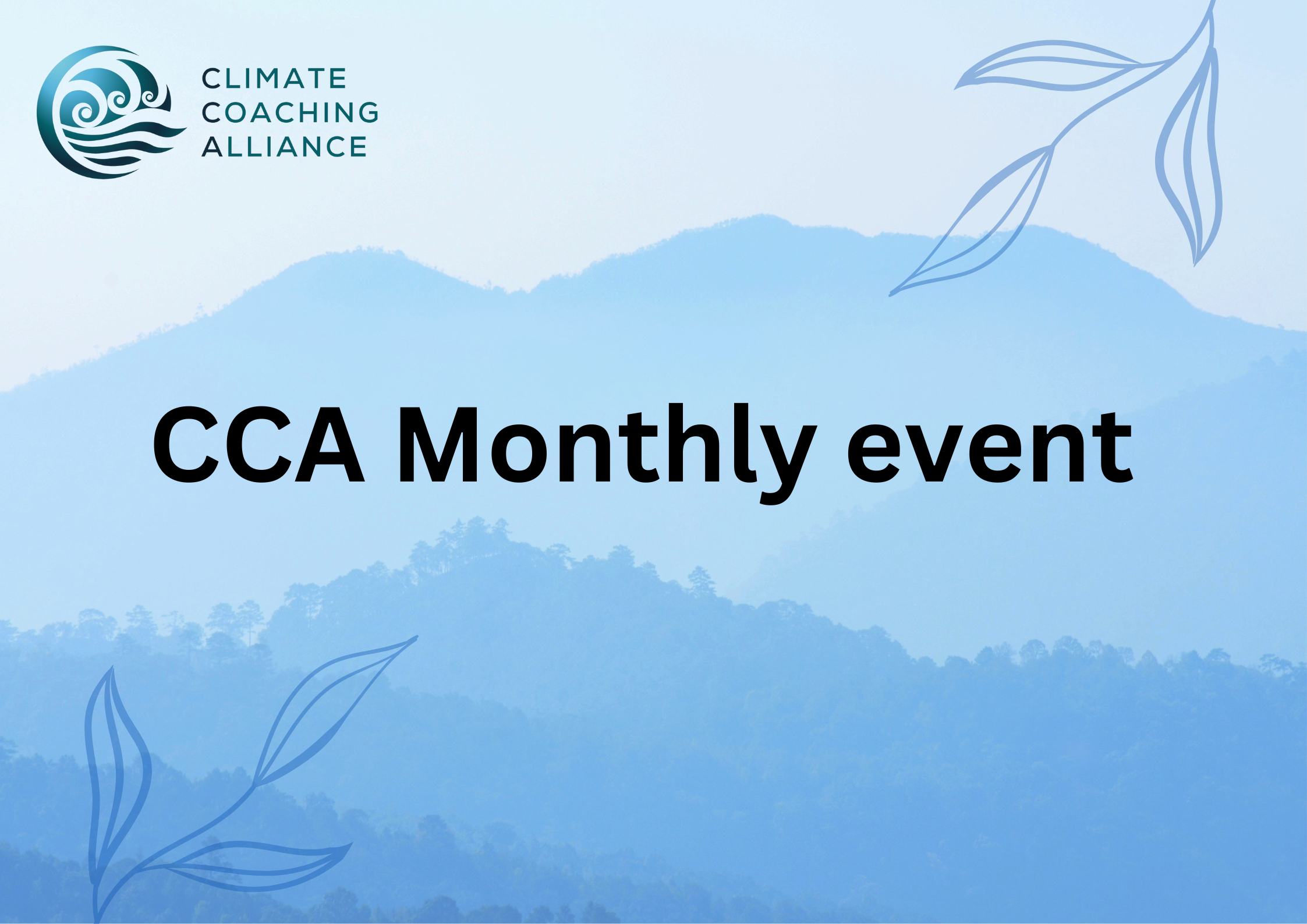 CCA Monthly Event: How climate coaching can accelerate action in organisations
124
124 people viewed this event.
In this interactive event, we'll hear from Charly Cox, climate coaching pioneer, Andrew MacFarlane, Head of Climate at AXA XL, and Andreea Ghiocel of The CSR Agency in Romania about how coaching skills help leaders and teams overcome obstacles and achieve breakthroughs in climate action.
We'll discuss what we've heard in small groups and then share insights in plenary, with an opportunity for Q&A and learning practical tips and tools. Co-hosted by CCA members Alison Maitland and Michelle Bramley.
Additional Details
Event Timezone Is - United Kingdom
Registration Deadline - Jun 2, 2023
Presenter / Host Bio
Charly Cox is an award-winning climate change coach and Co-Founder of the Climate Change Coaches, a B Corporation based in the UK. Charly and her team pioneered the field of climate change coaching, and she co-wrote the first book on the subject. Charly has spoken at conferences, to large groups of staff, and to executive committees of organisations in Europe and North America about the need to change the way that we engage people with climate change. In 2022 she spoke at COP27 in Egypt, in a speech that was livestreamed to over 20,000 people. Charly is passionate about the role of business to solve real world problems and create meaningful, stimulating work for others
Presenter / Host #2
Andrew MacFarlane is responsible for the global climate strategy for AXA XL which entails ensuring all its climate-related efforts across all the areas of the business, insurance and reinsurance, are aligned towards furthering AXA XL's sustainability ambitions and AXA's climate leadership. Previously, Andrew le the Pricing &Analytics actuarial team across the Global Markets area for AXA XL Reinsurance covering Property, Casualty and Specialty lines. Andrew holds an Honors degree in Actuarial Science and Statistics from the University of Witwatersrand, South Africa, and is a Fellow of the Institute and Faculty of Actuaries.
Presenter / Host #3
Andreea Ghiocel is an environmental engineer and sustainability consultant with over seven years of experience at The CSR Agency, one of the first sustainability management consultancies in Romania. As Head of Sustainability Reporting, her primary focus is on reporting and strategy, collaborating closely with a diverse range of clients spanning multiple industries and organizational sizes. With a deep understanding of sustainability principles, Andreea is dedicated to facilitating the adoption and implementation of sustainable business practices among her clients, with the ultimate goal of advancing a more sustainable future.
Posted By - Alison Maitland
Email - alison.maitland@gmail.com