Registrations have closed.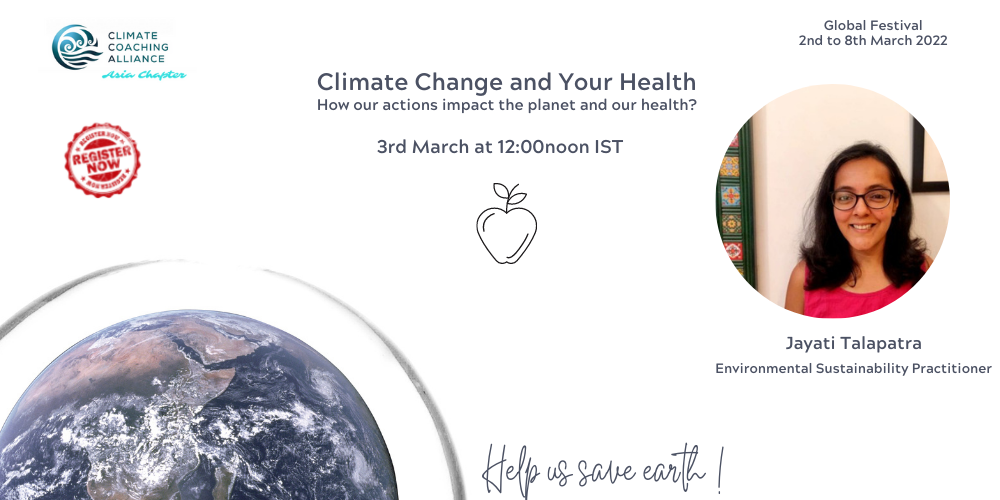 'Climate Change and Your Health- How our actions impact the planet and our health?'
473
473 people viewed this event.
The recent IPCC (Intergovernmental Panel on Climate Change – the global authority on Climate Change) report make two things clear -anthropogenic (human-led) activities are the primary cause of Climate Change and that if the world continues in the present manner, the damage to the planet and its population will be devastating and irreversible. In this session, we will understand what Climate Change is, why should we care about it and what can we do.
Additional Details
Event Timezone Reference - India
Presenter/Host Bio
Jayati has more than a decade of Organisation Development consulting experience, post her MBA from XLRI Jamshedpur in 1999. Over the last 6 years, she has been working on Environmental sustainability. Her focus is on generating awareness within corporates on the impact of business actions on the Planet and consequently, Humans. She teaches Business Sustainability in TERI School of Advance Studies and her course on Businesses and Biodiversity is a first of its kind in Indian B-schools. She was the Chief Editor of the Springer Nature book 'Emerging Economic Models for Sustainability' and has written papers on the Impact of Consumer Behaviour on Sustainability and Responsible Environmental Leadership, for Springer International Publications and the Pan- IIM conference in 2022. She is the President of a National Chamber of Commerce, WICCI Delhi Sustainable Businesses Society. Through Dilli Meri Jaan Walks, an initiative to restore Delhi's ecology, Jayati aims to expose people to the advantages of nature and nature-based solutions and nudge them to take actions to preserve the city's biodiversity. She helps the participants appreciate the impact that healthy air, soil and water have on the planet and all its resident beings. The walks ensure that each participant takes back a concrete action item, to reduce their carbon and resource footprint and another to improve the quality of air, water and soil of their city.
Presenter/Host 2
Host - Vineeta Juneja
Presenter/Host 3
Host - Jaya Bhateja
Email - jayahateja@gmail.com