Registrations have closed.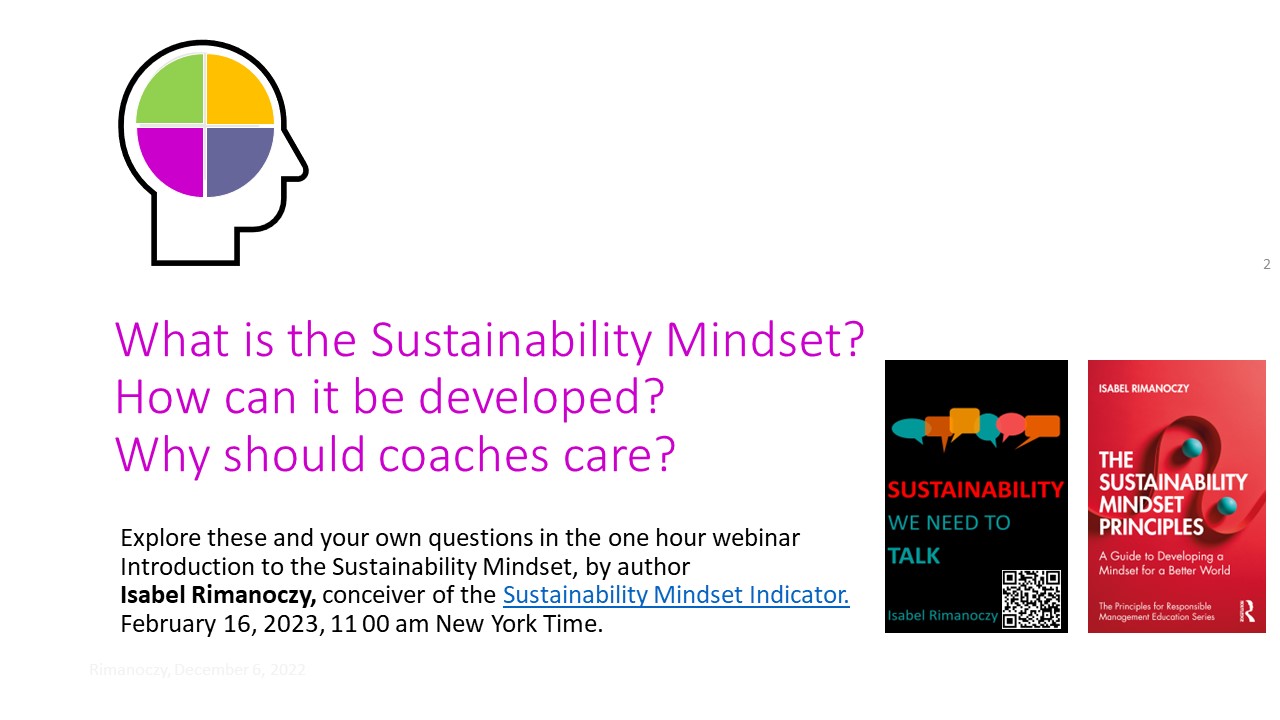 Introduction to the Sustainability Mindset
493
493 people viewed this event.
Are you wondering how best to support your clients in these UVUCA (Unsustainable, volatile, uncertain and ambiguous) times? What is the new role coaches have, the new responsibility and opportunity to scale up change? I
In this one hour webinar, Dr. Isabel Rimanoczy, author and researcher of the Sustainability Mindset, will share the key elements of a Sustainability Mindset, how it is developed and assessed.
Come and bring your questions to explore this fascinating new landscape of professional possibilities.
Additional Details
Event Timezone Reference - United States
Presenter/Host Bio
Isabel Rimanoczy, Ed.D. is an academic, who has made it her life purpose to promote change accelerators. Aware of the complex challenges our planet (and we in it) are facing, she works alongside those who can make an impact on a greater scale. She developed the Sustainability Mindset, a concept she has been studying for the last 17 years. It all started with business leaders who championed corporate initiatives with a positive impact on the environment and the community. What inspired these leaders to act in a business-as-unusual way? 
She created LEAP! an international cohort of 230 academics from 210 universities on five continents promoting a holistic sustainability mindset with their students. The professors foster a new paradigm, social action and consciousness. 
Isabel is the Global Academic Ambassador for AIM2Flourish, the international initiative to promote businesses as agents of world benefit.  She is the author of many books, including: Sustainability - We need to talk (2022) and The Sustainability Mindset Principles: a guide to developing a mindset for a better world (Routledge, 2020).  She co-authored Action Reflection Learning: Solving Real Business Problems by Connecting Learning with Earning based on her research about adult learning. She conceived the Sustainability Mindset Indicator, the first instrument to assess the mindset profile. To operationalize the assessment, she created the Series of Resource Workbooks for Educators, and for Coaches, with 108 exercises.
Isabel earned her doctorate at Columbia University, has her MBA from Universidad de Palermo and is a Licensed Psychologist from the Universidad de Buenos Aires.  
Posted By - Isabel Rimanoczy
Email - isabelrimanoczy@gmail.com