Registrations have closed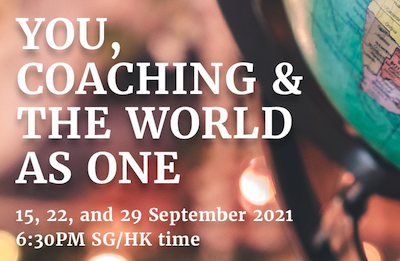 APAC and CCA partnership: You, coaching and the world as one (part 1 of 3)
75
75 people viewed this event.
In partnership between Asia Pacific Alliance of Coaches (APAC) and Climate Coaching Alliance (CCA), this 3-part series offers our response to the climate and ecological crisis that humanity now faces. In this regard, how can coaches raise the topic of climate change with clients? This platform allows coaches and climate conscious professional to unpack the essence of coaching on climate and tensions experienced by coaches as they try to align the private concerns with professional practice.
Part 1
Collectively, we will reflect on the role of self, the profession, and our clients in response to the climate and ecological emergency. Coaches will explore individual journey in bringing climate into coaching space.
Additional Details
Event Timezone Is - Singapore
Presenter / Host Bio
Jaime Blakeley-Glover is a leadership, executive & team coach, facilitator, and consultant. He works with individuals and organizations seeking to align performance with meaning and purpose. Jaime draws on his qualifications in executive and systemic team coaching and experience of senior roles in both public and private sectors, having worked in both sustainability and property industries. Whilst his clients will come from varied backgrounds, professions, or sectors, the common thread is an ambition to achieve an individual or collective transformation in what they do whilst having a positive social and environmental impact.
Presenter / Host #2
Gosia Henderson is a leadership & team coach, facilitator, and organizational consultant working with leaders, teams, and entrepreneurs embarking on the journey towards sustainability. Her work is informed by years of experience in operations, training, and organizational transformation, in a broad range of companies and industries, from start-ups to global corporations. She dedicates her time and energy to bringing the systemic perspective and purpose into manufacturing organizations to enable regenerative leadership and practices in the industry. As a coach and consultant, she uses every opportunity to build awareness and inspire a positive change in the business relationship with nature and the Planet.
Email - info@climatecoachingalliance.org