Registrations have closed.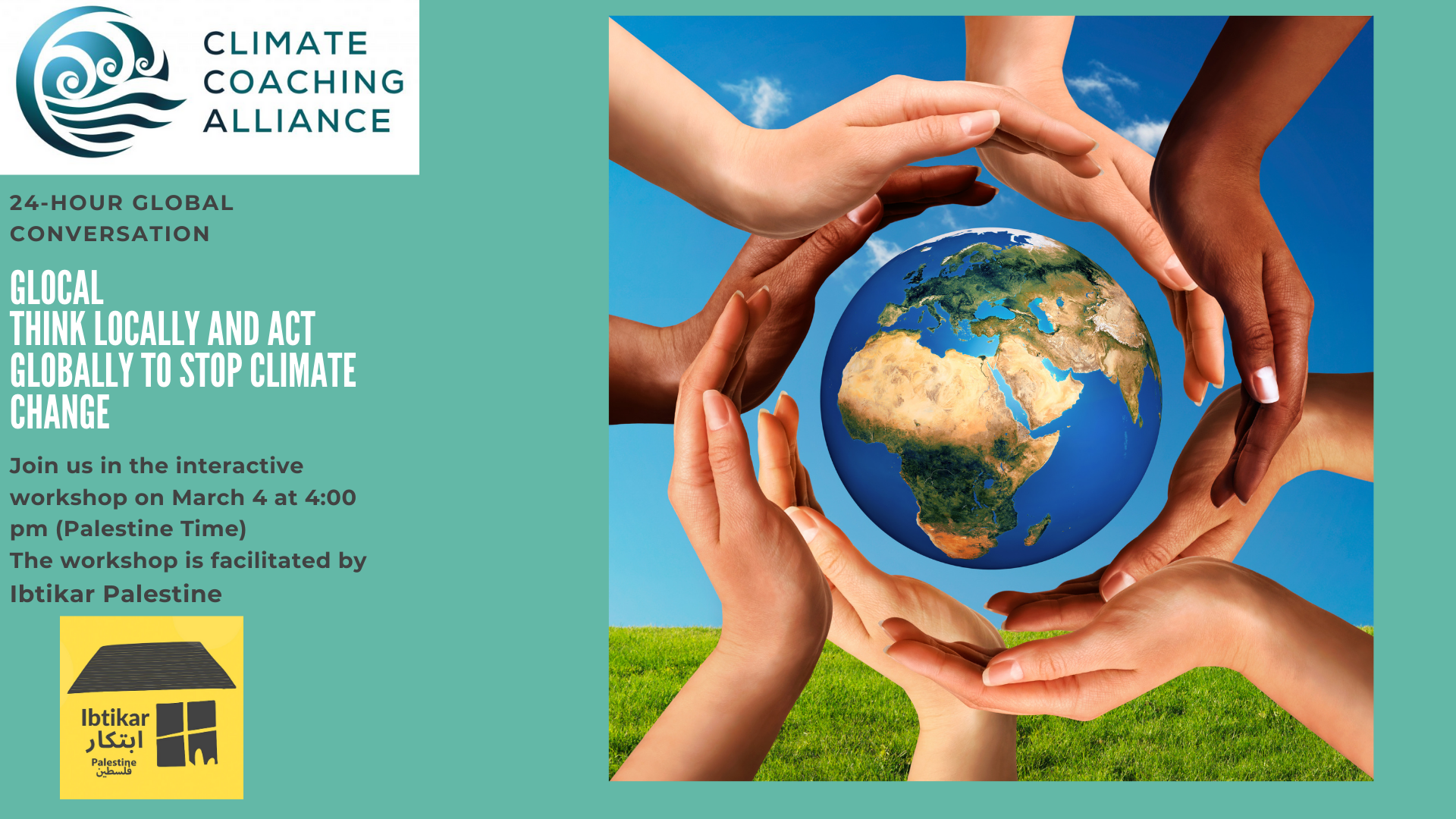 GloCal
1064
1064 people viewed this event.
GLOCAL (Act Locally and Think Globally) is an interactive session in which participants will work together to develop a global approach to stop climate change. The participants will be divided into small groups to share their local experiences in this regard. Ibtikar team will accompany them to facilitate the development of a new approach through the use of specific cards. Each group will present the result of their work in a plenary session.
PLEASE NOTE THIS SESSION WILL BE RECORDED FOR USE IN THE CCA SEEDBANK WHICH WILL BE FREELY AVAILABLE TO VISITORS TO THE CCA WEBSITE.  BY ATTENDING YOU ARE AGREEING TO THIS HAPPENING, THANK YOU.
Additional Details
Event Timezone Reference - Palestine
Presenter/Host Bio
Mohammad Issa has been working as a community development specialist since 1997. Mr. Issa has a Master's Degree in international cooperation and development from Bethlehem University. Mohammad used to work for different local and international organizations. He has trained, coached, and mentored thousands of youth and children. In the last 16 years, Mohammad has represented his country in different international forms and platforms. He is a CIVICUS network member and a certified virtual and physical facilitator working with local and international organizations. During the past 4 years, Mr. Issa has facilitated tens of virtual and physical workshops as a part of Ibtikar's program SDGInnovation. This project was developed to learn and teach for a sustainable future in Palestine through empowering schools and teachers across Palestine to act on the United Nations Sustainable Development through the use of social innovation tools. The project is about; (1) teaching and learning through a global justice lens, allowing school students, teachers, parents, and decision-makers to explore knowledge, skills, attitude, and values necessary to become global citizens, (2) Empowering young people to use social innovation to respond on social issues and act on the SDGs and (3) Facilitating schools to work for a more just and sustainable world. Mr. Issa has been selected as a representative of the MENA region in the Steering Committee of Action 4 SDGs.
Presenter/Host 2
Sameh Jamil A founding member of Ibtikar for empowerment and social entrepreneurship with a professional background in the field of social entrepreneurship and innovation. Previously, he has worked with international and local organizations in project management and monitoring and evaluation. With over 5 years of experience working with nonprofits and social enterprises working to promote education in Palestine, he feels passionate about social enterprise development and education innovation.
Posted By - Mohammad Issa
Email - ibtikar.palestine@gmail.com