Registrations have closed.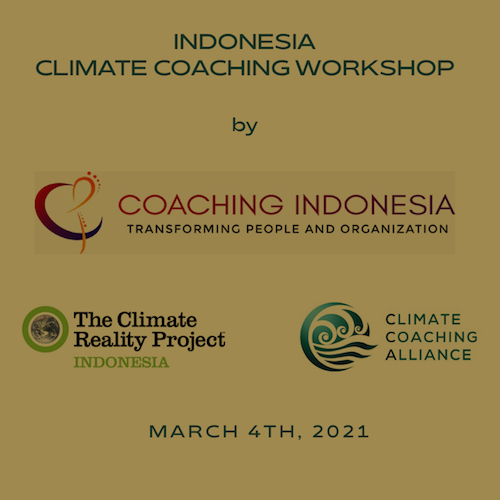 Indonesia Climate Coaching Workshop
794
794 people viewed this event.
INTRODUCTION
Data from the National Disaster Mitigation Agency shows that Indonesia experienced a rising number of hydro-meteorological disasters from 2015 to 2020, where in 2020 alone, the country saw 1,138 floods and 902 whirlwinds. The Government of Indonesia has committed to ambitious green house gases emissions reduction target and is implementing a comprehensive nationwide response to climate change. The role of non-state actors to accelerate actions to build concrete, ambitious and lasting cooperative initiatives are also recognized.
Coaching, partnering with individuals in a thought-provoking and creative process that inspires them to maximize their personal and professional potential, is one among many actions to address the climate crisis.
Over the last year, 10 professional bodies for Coaching, Mentoring and Supervision signed a Global Statement with commitments to work together to play their part in addressing the climate emergency (www.climatecoachingalliance.org/statement)
Coaching Indonesia, Climate Reality Indonesia, and Climate Coaching Alliance will be organizing a virtual "Climate Coaching Workshop – To Cherish the Earth for Humanity" scheduled for March 4th, 2021, 16.00-18.00 WIB/19.30-21.30 ACDT
OBJECTIVES
·      Increasing participants' knowledge about the climate crisis, its solutions, and actions
·      Providing participants with information on coaching practice and how it can address the climate crisis
·      Pooling resources on climate coaching practices
·      Building a network of individuals within climate, environment, and coaching communities who are committed to take real actions for humanity.
SPEAKERS:
*Al Falaq Arsendatama, MCC | Founder Coaching Indonesia |CEO Coaching Indonesia Technology
*Amanda Katili Niode PhD | Manager, Climate Reality Indonesia
*Dr Josie McLean | Recipient of the ICF Presidents Award in 2009  | Former President of ICF Australasia | Co-founder of Climate Coaching Alliance.
Additional Details
Event Timezone Reference - Indonesia
Posted By - Amanda Katili Niode
Email - amanda@omarniode.org