Registrations have closed.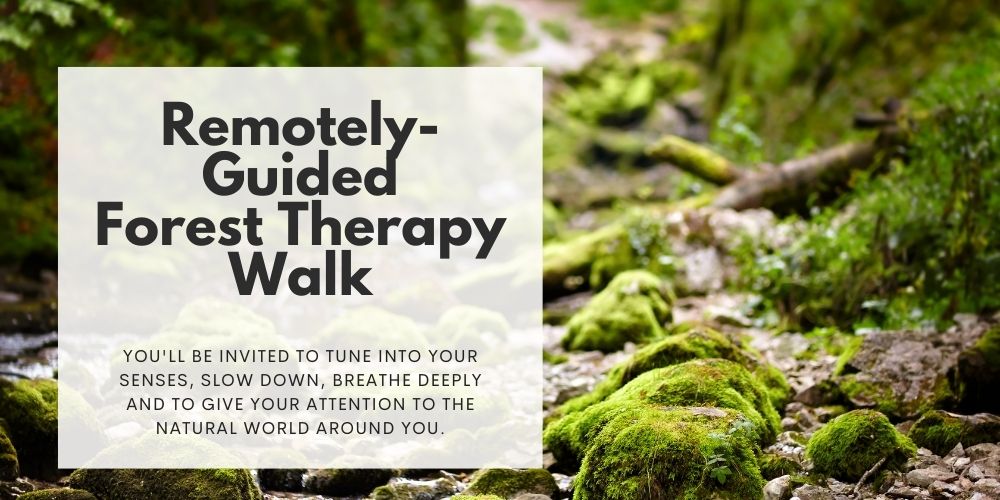 Reconnect to Yourself, Others and Nature – A Remotely-Guided Forest Therapy Walk
959
959 people viewed this event.
During this time when many of us are experiencing heightened anxiety, uncertainty, and a sense of isolation, a remotely-guided Forest Therapy walk offers opportunities to connect to yourself, others, and to the the natural world around you. I lead these remotely-guided sessions with people around the world via the free audio conferencing platform Zoom. Anyone can participate, regardless of age, ability or access to the outdoors.
You can step away from your screens and simply follow my gentle invitations as you listen to our audio call from your phone or computer. You'll be invited to tune into your senses, slow down, breathe deeply and to give your attention to the natural world around you. Perhaps think of this experience as "noticing and dwelling" rather than walking or hiking to get somewhere.
You're welcome to join from wherever you are. These online gatherings invite you to participate from a safe and familiar outdoor space near you, such as your garden, a local park or a nearby greenspace. If you're unable to leave your home, you can participate by looking at nature through your window, sitting next to an indoor plant and gathering items that represent nature to you, such as rocks, seashells, favourite images of nature, herbs, fruits and vegetables, wooden objects, etc.
The feedback from these remotely-guidedwalks has been heart warming. Listening to individuals share what they're noticing in their surroundings has painted visual stories from gardens, parks, homes and forests around the world, creating a beautiful sense of connection – and even a sense of "travelling" while travel is limited.
Additional Details
Event Timezone Reference - Canada
Presenter/Host Bio
A warm welcome.  My name is Valerie McIntyre-Baird. For over 25, years I've led high-performance teams and helped individuals imagine what they're capable of. It's been a privilege to lead, guide, coach and mentor people around the world while facilitating their self-growth. This has been an unprecedented year of change and disruption. For many of us, the routines, people and places that acted as the foundation of our daily lives has changed - and keeps changing. This can leave people feeling stressed, anxious and lost. It can also be an opportunity for intentional personal change that's positive. The good news is as an adult with ADHD, I've spent my life designing ways to cope (and thrive!) with a busy mind in a busy world. It was not always easy to be a senior executive, or to start my own business or to be a Mom – but my nature is to design my way out of challenges and then share what helps me with others. Thankfully, I've been able to remain grounded, purposeful and optimistic - even when life felt overwhelming. Today, as a Certified Executive Coach (ICF) & Certified Forest Therapy Guide (ANFT) I share my tools and knowledge in my private practice. I work with people around the world, including adults with ADHD/ADD. With me as your guide, you'll make your way towards clarity, simplicity and a renewed sense of purpose. I'll also support your critical thinking, creativity and overall wellbeing through the practice of Forest Therapy.​ I respectfully recognize that I work, play and live on what is now called North Saanich, BC, the traditional territory of the Coast Salish, W̱SÁNEĆ First Nation people. Warmly, Valerie To Learn More: www.valeriemcintyrebaird.com
Posted By - Valerie McIntyre-Baird
Email - val@mcbairdstudios.com