Registrations have closed.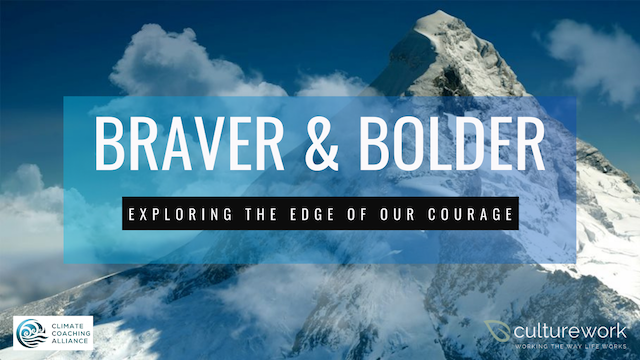 BRAVER & BOLDER – EXPLORING THE EDGE OF OUR COURAGE
787
787 people viewed this event.
None of us is doing all that we could at this crucial moment.
The breakdown in our planet's climate and biodiversity represents a breakdown in the relationship between our species and the living world. Our systemic illiteracy has led to system failure. Everywhere.
Our ecological crisis and our failure to address it are two sides of the same coin: we're failing to mount a meaningful response for the same reasons our ecological systems are failing.
Because we don't appreciate how complex systems work, we don't see how we break them. And we don't know how they change, so we don't know how to help them heal.
In this "decisive decade" we need a level of innovation unlike anything we've ever witnessed. And business-as-usual simply won't cut it. Wherever we are, whatever we do, we've got to be much braver and much bolder.
Designed as a provocation-and-conversation, this session will explore the relationship between our ecological crisis and our conventional ideas about what it means to organise, to lead, and to change.
And it will offer you a conversational space to reflect on this make-or-break moment and ask: What's mine to do?
Come with a journal, a pen and a heart open to becoming Braver and Bolder.
Additional Details
Event Timezone Reference - Ireland and UK
Presenter/Host Bio
Paula Downey is a partner at downey youell associates and co-creator of CultureWork - a living-systems approach to organisation, culture and change. I design, host and curate participative processes that help people think, talk, work, learn and make real progress together in structured, creative ways – from strategic planning with leadership teams to large scale whole-system work involving hundreds of people in a single room and more than a thousand people across several continents. I have a Masters Degree in Responsibility and Business Practice from the University of Bath and I write and speak on the living systems revolution, the new work of leadership and the potential to dedicate ourselves and our work to the adventure of whole system change. https://culturework.ie/
Presenter/Host 2
Karen is a holistic coach working with individuals and organisations to create personal and collective change. https://foundationoficf.org/coaching-for-peace-makers-and-future-leaders/ https://karenfinn.uk/