So, you'd like to set-up your own community under the CCA banner. Assuming you've been in touch, and we've approved your proposed community, this Launch Kit has been designed to help get you started.
But, before you do, we encourage you to take another look at our existing CCA Communities – local communities, language-based communities and pods (communities of interest). Keep in mind that CCA is run entirely by volunteers, so setting up a CCA Community doesn't require the creation of a legal entity. But an underlying principle is that all events and resources are open to everyone and are offered without either direct charge or any indirect marketing*.
Guidelines For Hosting Your Community Launch Event
The following guidelines will work whether you already have a group of engaged coaches who want to be part of your CCA community or you're using the launch event to attract others – or BOTH!
If you don't already have your CCA logo, request it by emailing us here.

We'll work with you to create a short description of your community together with an appropriate email address which will be listed on the CCA Communities page. Some examples are canada@climatecoachingalliance.org and education@climatecoachingalliance.org.

Decide on a date for your online or in-person launch event.
If virtual, decide which platform you want to use – Zoom, Google Meet, Teams etc… and create a link.
You may want to choose a theme or special topic for your launch event in order to attract more participants (e.g. "What is the role of coaching in the ecological transition?") and create a flyer for platforms like LinkedIn. checkout some sample marketing materials belo

w.

Create an announcement for your launch event and post it in both English and your language on the Post an Event page.
Work with our communications team on marketing your event through our newsletter and social media platforms.
Welcome to the Climate Coaching Alliance
An example presentation that introduces the Climate Coaching Alliance, its mission and values.
Open/Download in PDF or PPT
The Eco-Phase Cycle (From Professor Peter Hawkins)
Use this tool to assess where everyone is at the beginning of your community's journey.
See the Cycle below, or Open/Download in PDF
Sample Launch Presentation
This presentation was used to launch the Francophone community in 2020 (in French).
Open/Download in PDF
Where are you as we begin our journey?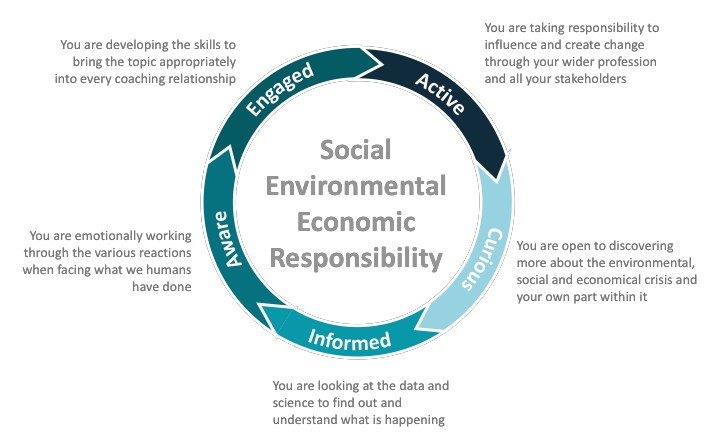 * IMPORTANT NOTE:
Maintaining the integrity of the CCA is very important to us and, as such, we fully support and comply with the provisions of the General Data Protection Regulation and similar legislation operating around the world, particularly in terms of the privacy of those who interact on our platform. Your community and events will be promoted in good faith and on the clear understanding that you will not use any information you collect from participants at your events (including those who register but do not attend) for the purposes of follow-up or other marketing unless you have first obtained that person's express permission to do so. Unsolicited communications of any sort may be reported to the appropriate regulatory bodies.