Registrations have closed.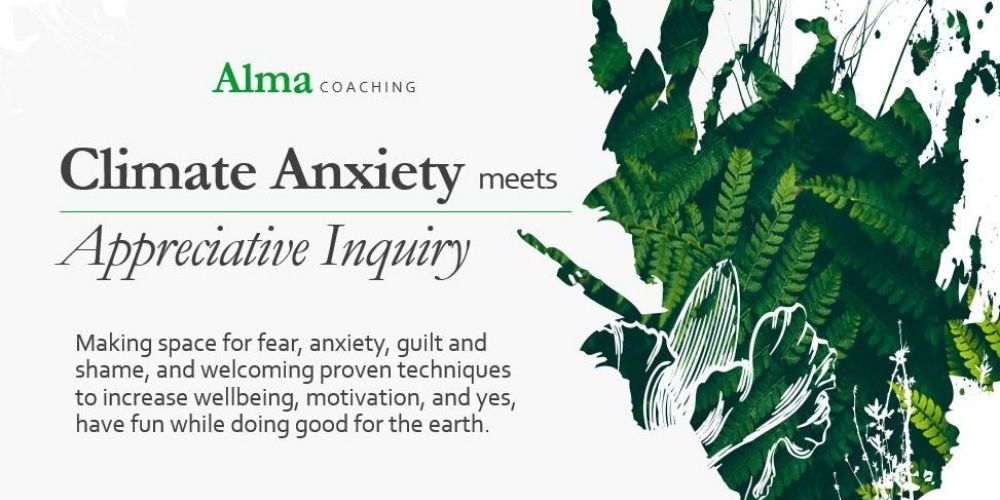 Climate Anxiety meets Appreciative Inquiry
596
596 people viewed this event.
According to Dr. Stowe, Co‑Director of the Harvard Project on Climate Agreements and Executive Director of the Harvard Environmental Economics Program, the most important impact individuals can have on climate change is by increasing "climate conversations". Let's talk about it!
Actually, we won't really talk about climate change. This informal gathering is non-political, non-judgmental, non-scary, and non-pushy! Most of us are not scientists, environmentalists, or activists and that's ok. This webinar is to show how the Appreciative Inquiry approach can help those who feel overwhelmed, stuck, helpless or guilty at the thought of the climate crisis, don't know where to start or don't believe they can make a difference.
Acknowledging fear and grief is our starting point. Once we accept our discomfort, we can learn tools to manage it. Once we understand the science of what motivates us, we can gain clarity on what we truly care about and what we do best. And once we meet others with similar interests and values, we can move forward with accountability, support and have fun along the way.
Using appreciative language, images and questions gives us permission to take a deep breath. There lies the source of positive change, within ourselves, for those around us, and for our planet.
Additional Details
Event Timezone Is - london
Registration Deadline - Jun 2, 2023
Presenter / Host Bio
Alexandra Arnold is an ICF-accredited personal development coach with a Master's in Organizational Psychology. Using positive psychology and Appreciative Inquiry, she helps her shy, highly sensitive and empath clients get out of overwhelm by discovering their strengths, getting clarity on what they really want for a meaningful life, and identifying inspiring goals. She believes that personal wellbeing is the first step to caring for the planet. She is the Program Director at The Taos Institute.
Posted By - Alexandra Arnold
Email - almacoachingusa@gmail.com