Registrations have closed.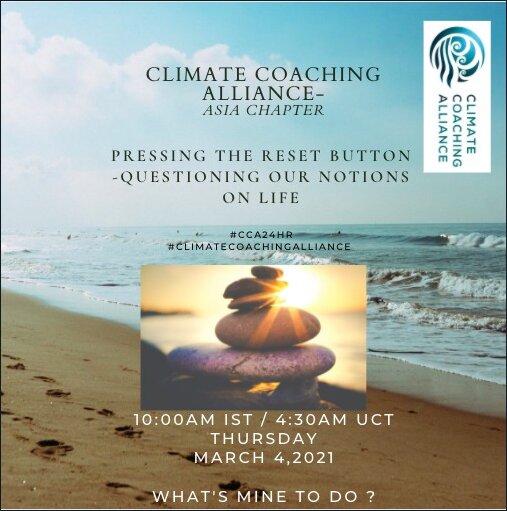 Pressing the reset button-Questioning our notions on life
1056
1056 people viewed this event.
Pressing the reset button-Questioning our notions on life
With the awareness that choosing to start the journey by looking inside helps illuminate our individual roles, responsibilities and accountability in society, the desire to change and work upon oneself becomes more compelling. Only if we can transform ourselves, can we hope to change anything outside of us. The fundamental causes of these problems lie in leading an unexamined and unquestioned life. While our educational and professional training equips us to achieve our productive potentials there is no attention to discovering our complete human potential for goodness and responsibility towards each other. A predominant focus on our economic well- being has led to a disconnection with our positive innate and universal human values. In the pursuit of our individual goals we have failed to grasp our a) fundamental sameness at the physical and emotional level, b) common humanity and interdependence and c) equal desire for happiness and well-being. This has led to a lack of oneness and connectedness with oneself, fellow humans and the rest of the world. The need of the hour therefore is to focus equally on developing people as a whole and for the whole of life. For the sake of our individual as well as collective advancement we need a bolstering of empathy, compassion, tolerance and justness. As the present Dalai Lama also reiterates, what we urgently need is an education of the heart!
An unexamined acceptance of the status quo means living under the illusion of a perfect world and we are not questioning our notions on life. This eliminates any possibility to create a better future. Join us in pressing the reset button as we once again question our notions on life-A positive dissatisfaction with the present is a constructive step to embark on our journeys for change.
Additional Details
Event Timezone Reference - India
Presenter/Host Bio
Saurabh Mittal (saurabhmittal@gmail.com) Saurabh is an alumnus of IIT Delhi and the Said Business School, University of Oxford, where he was a British Chevening Scholar. He has over two decades of experience consulting with Fortune-500 firms and has lived and worked across five continents. After moving to the foothills of Himalayas, he turned to leadership and coaching young entrepreneurs in the space of transformative holistic education. He regularly speaks on entrepreneurship and is passionate about building ethical and conscious leadership in organisations. Saurabh serves on the boards of many educational institutes, including the technology business incubator Catalyst at IIT Mandi, and a number of start-ups. He has travelled extensively across India to explore experiments on alternative development.
Presenter/Host 2
Preeti Mann (mannpreeti@yahoo.com) Preeti Mann is a social anthropologist. She is an alumna of the University of Delhi and the University of Oxford, where she completed her doctorate on a Rhodes Scholarship. She has extensive research, teaching and applied work experience in development.
Presenter/Host 3
Rritu Rana (riturana199799@gmail.com) Rritu Rana is a Life Coach, Soft Skills Trainer and Founder at Shakhhsiyat-Skills For Significance. She helps individuals and teams in leading from within to achieve next levels in their personal and professional lives. She is an alumna of Delhi School of Economics, the University of Delhi and Bangalore University, where she completed her Masters of Business Administration. She has extensive experience in Personality Development and Resilience Coaching. She is currently working towards taking soft skills training to two tier and three tier cities; taking up projects that help individuals in building resilience to climate change and its impact; and also working towards introducing environmental awareness and its regeneration through her trainings and coaching sessions to co-create a more tolerant world and a sustainable planet .
Email - riturana199799@gmail.com/rriturana@shakhhsiyat.com