Registrations have closed.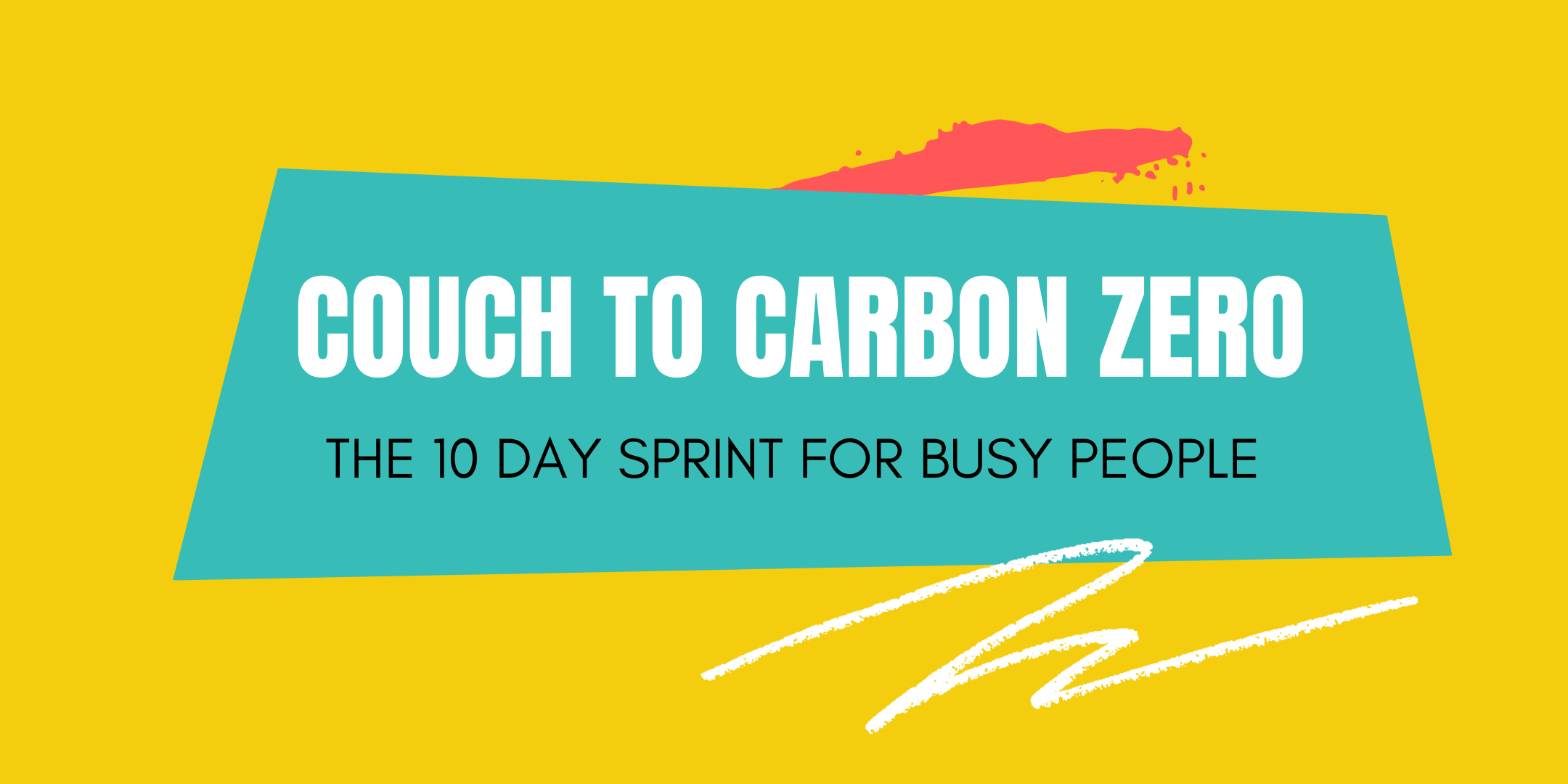 COUCH TO CARBON ZERO: Up your own ante and maximise your impact!
807
807 people viewed this event.
Up your own ante, claim your individual power and use it to scale your impact – through yourself and the leaders you work with – for the world.
We have all the answers. We know what we have to do. What the world needs now is ACTION. Every section of society – from individuals to business leaders – to step up and step up fast. It's beginning to gather pace. And this space in between, is alive with possibility, calling our heads, our hearts and especially our feet.
But so many people feel they can't make a difference as individuals… and in amongst busy lives, filled with work, kids, dogs and a million other things, stepping up to save the planet can all too easily slip off the list. Enter Couch to Carbon Zero – a 10 day sprint for busy people – designed to have people feeling confident and proud they've maximised their PERSONAL impact for the planet. Smart stuff, that goes beyond the obvious and moves good intention into (satisfying!) action. Large corporates and smaller organisations are absolutely loving it – signing up as a compelling, high energy way to bring their people along with them on the Race To Zero. And we'll be telling you all about it, starting as always with ourselves as coaches and own personal impact.
Sonia Lakshman, Co-founder of Couch to Carbon Zero & Every One Of Us together with Lydia Stevens of Climate and Biodiversity Coaching will take us through a practical, high energy session. We'll get a flavour of the sprint in real time, have stimulating breakouts to check in on our own personal carbon impact, and leave with a fresh, exciting new arrow in our climate influence armoury.
We'll go on to look at the potential of how we can engage leaders from the ground up, getting past the usual obstacles that stand in our way, not least how to cross the threshold as coaches into active leaders ourselves.
Questions we'll be asking of ourselves and answering together:
What is your personal impact? What are your levers?
How do you work with your clients in the urgent context of the world's fragility?
How do we role model our own actions with energy?
Additional Details
Event Timezone Reference - United Kingdom
Presenter/Host Bio
Sonia Lakshman is the co-founder of Every One Of Us, a non-profit Community Interest Company - home of the Friday Eco-Off podcast, the new Couch to Carbon Zero sprint, and The One Fund that supports inspiring earth-affirming projects around the UK. Former career and executive coach with an earlier career in music and publishing, Sonia is now on a singular mission is to make it easy for busy people to join the fight for our planet, our only home. Sonia grew up in India, lives in the UK, loves being on the water and has an especial soft spot for elephants.
Presenter/Host 2
Lydia Stevens is an executive coach, thinking partner, trainer and facilitator. After 20 years working as a consultant in sustainable development, Lydia re-trained as an executive coach to work with companies, teams, communities and individuals to serve people and planet. Lydia has been an active member of the Climate Coaching Alliance since its inception. She co-founded Climate Biodiversity Coaching with Jackie Arnold, offering a climate and biodiversity coaching course to deepen the multiple contributions coaching offers the word today and for future generations. Lydia has traveled extensively and understands different contexts, cultures and the fragility of the world around us. Where relevant she brings a passion for nature and cross-cultural learning into her coaching, including lessons from Indigenous wisdom. Lydia speaks English, French, Spanish and some Italian. She remains passionate about working in support of people and planet.
Posted By - Lydia Stevens
Email - lydia.richardson@icloud.com