Registrations have closed.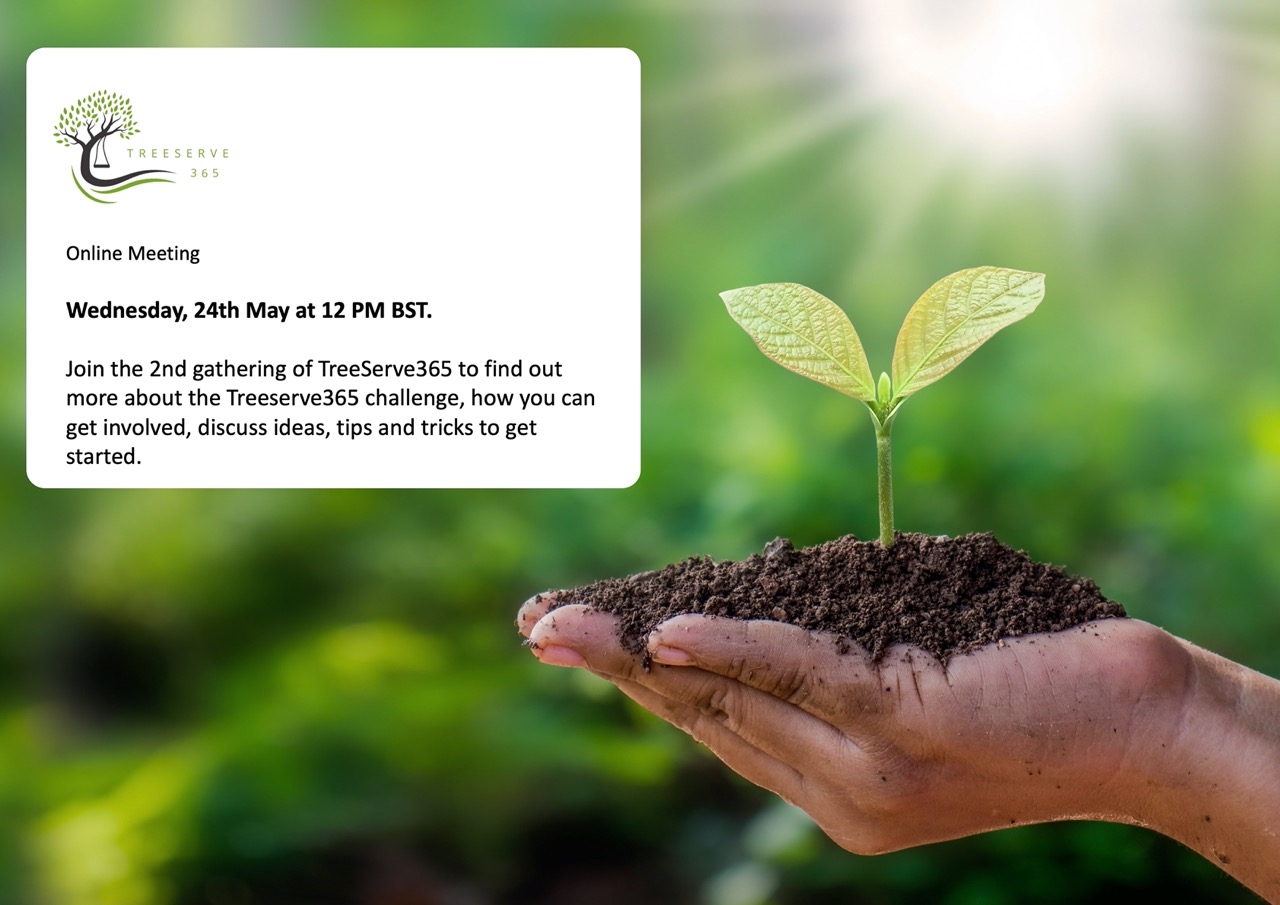 Treeserve365 – Community monthly meeting
468
468 people viewed this event.
The TREESERVE 365 challenge involves planting trees in our local communities whilst mirroring our efforts in developing countries in the southern hemisphere. This project was launched on Earth Day, 25th March 2023, at the Climate Coaching Alliance's Global Fringe Festival.
We expect to learn a great deal over the next year – about conservation, biodiversity, and how the climate crisis is affecting people and the planet in other parts of the world. And we hope that TREESERVE 365 will foster many partnerships and collaborations as people take time to connect with nature, their local communities, and people from around the globe.
To make this project a success, we are going to need land, trees, connections, information, funds, tools, people and more – all over the world!
Please come along to the first of our monthly meetings on Tuesday, 24th May 2023, at 12 pm BST
to find out more;
Share your ideas,
offer support, expertise, contacts, and resources;
meet others who will be doing the same;
and learn about the various ways you can get involved.
You can already learn more about Treeserve365 and Join our mailing list by registering on our website: https://treeserve365.org/, where you can also find links to our social media channels.
We're excited about all there is to learn in the days and months ahead, and the impact we can collectively have by planting trees around the globe.
So, here's to solid backs and dirty hands!
Additional Details
Event Timezone Is - London
Registration Deadline - May 24, 2023
Presenter / Host Bio
Rachael Carley Rachael is a coach, NLP practitioner and sustainability coach who has been working in development training for decades supporting a wide spectrum of people from young children to corporate leaders. She started out as an outdoor instructor –running personal and professional development courses incorporating team and leadership training, for national and international organisations such as Outward Bound and UK inner-city youth charity, Fairbridge. In her early thirties, she co-founded an award-winning charity that utilised music and the creative arts as a medium for youth and community development which she ran for sixteen years. She now helps leaders and entrepreneurs put sustainability at their business's hearts – through coaching and outdoor experiences. She is a member of the Climate Coaching Alliance.
Presenter / Host #2
Amel Sedaoui Amel is a coach, Leadership development and Transformation facilitator. She is particularly passionate about cultivating the conditions for profound and sustainable change by building innovative approaches to make organizations and teams more reliable and resilient to navigate these uncertain and volatile times. She strives to be an active agent of the ongoing social and organizational transformations toward building ecosystems and managing ecological and climate changes emergency. She is an active member of the Climate Coaching Alliance helping coordinate CCA activities.
Email - sedaoui_amel@yahoo.fr